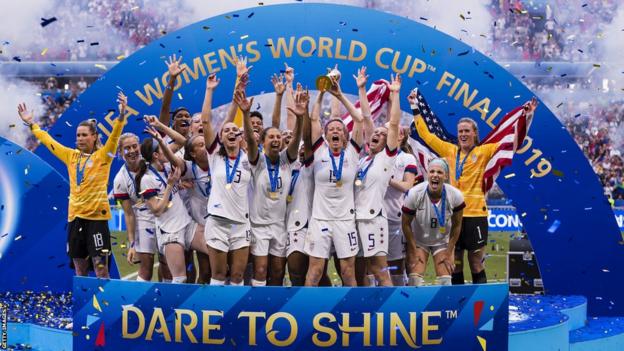 Organisers of the 2023 Fifa Women's World Cup, which starts in 100 days, say they are on course to sell a record 1.5 million tickets.
Around 650,000 have been sold for the event in Australia and New Zealand.
"Fifa's mission is to organise the biggest and best Women's World Cup in history this year," said Fifa secretary general Fatma Samoura.
The World Cup, which features England and the Republic of Ireland, starts on 20 July with the final on 20 August.
As well as targeting 1.5m tickets sales, organisers predict the month-long tournament will attract a global television audience of two billion viewers.
Fifa hope more than 100,000 fans will attend the event's opening day overall, when New Zealand play 1995 winners Norway at the 50,000 capacity Eden Park in Auckland – kick-off at 08:00 BST – and Australia face the Republic of Ireland at the 83,500 capacity Stadium Australia in Sydney (11:00).
Australia's opening match was originally due to be played at Sydney Football Stadium, which holds 45,500 people, but has been moved to a bigger venue to meet the demand for tickets.
The last phase of ticket sales has just started for what promises to be another big milestone in women's football.
'Best ever Women's World Cup'
This is the ninth edition of the Women's World Cup. The first tournament in 1991 saw 12 teams compete in China when the United States won the first of their four world titles.
Fifa president Gianni Infantino has predicted the 2023 edition will be the "best ever" after it was expanded from 24 teams in 2019.
Thirty-two countries will compete over 64 matches at 10 different venues across nine cities in Australia and New Zealand.
Eight teams are making their World Cup debuts – Portugal, Republic of Ireland, Vietnam, Philippines, Haiti, Panama, Zambia and Morocco.
Zambia – 77th in the world – are the lowest ranked team at the tournament. Denmark are making their first World Cup appearance for 16 years.
Seven teams are ever-presents having appeared at the previous eight tournaments – United States, Germany, Sweden, Brazil, Japan, Norway and Nigeria.
European champions England, who are making their sixth appearance, will be based in Australia.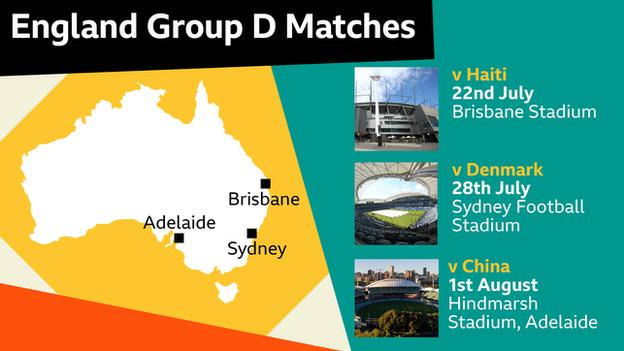 The Lionesses launch their Group D campaign against Haiti in Brisbane on 22 July (10:30) before facing Denmark in Sydney six days later (09:30) and China in Adelaide on 1 August (12:00).
The United States are looking to be crowned world champions for the third straight tournament after successes in Canada in 2015 and in France in 2019. The number one ranked team in the world will be based in New Zealand for their Group E campaign.
They start against Vietnam in Auckland on 22 July (02:00) before travelling to Wellington to play the Netherlands in a repeat of the 2019 final on 27 July (02:00). The United States' final group game is against Portugal in Auckland on 1 August (08:00).
Republic of Ireland boss Vera Pauw described her side's Group B campaign as "tough" before adding: "This is what we've always been striving for."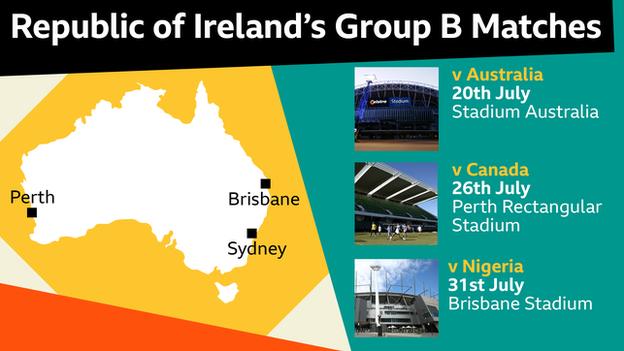 After facing Australia in Sydney, the Republic meet Canada in Perth on 26 July (13:00) and then face Nigeria in Brisbane on 31 July (11:00).
'Tone deaf' – controversy and tensions
This is the first Women's World Cup to have more than one host but, three months before it starts, the tournament has already courted controversy.
Fifa has dropped plans for Saudi Arabia's tourism authority to be named as an official sponsor of the tournament following criticism from players and sponsors about the proposed deal.
World football's governing body has also been criticised for appointing supermodel Adriana Lima as a global fan ambassador.
Brazilian Lima will "develop, promote and participate in global initiatives" before the World Cup. However, former Fifa council member Moya Dodd described the appointment as "tone deaf".
In addition, a newly-created qualifying tournament – with 10 teams flying to New Zealand for games to decide the final three places at the tournament – was labelled "unnecessary".
Ireland and Reading defender Diane Caldwell, who will be at her country's first Women's World Cup, said: "I'm sure Fifa will say they've done it to help the women's game grow.
"Of course we all want the game to grow, but it can be done in a sustainable way and not by flying 10 teams from different continents to New Zealand to compete. I think definitely it could have been avoided."
Meanwhile, several teams have had their own issues in the build-up.
Canada, Spain and France have made headlines in recent months as disputes between players and federations have escalated, although France's issues appear to have been resolved with the appointment of a new manager.
Former Brighton and England defender Fern Whelan from the Professional Footballers' Association (PFA) said it was "worrying" there was so much turmoil in international football, but the rapid development of the game has brought issues to the forefront.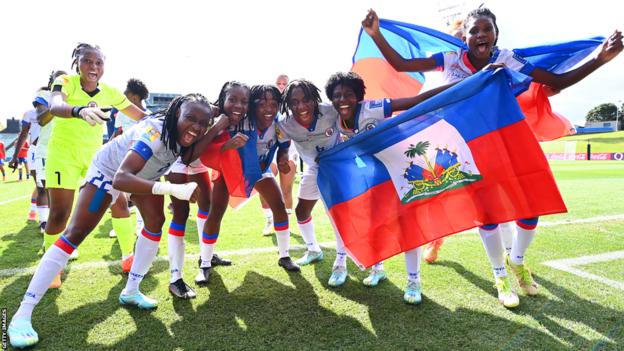 Sixth World Cup?
Brazil's legendary forward Marta, 37, could appear in her sixth successive World Cup.
She was 17 when she appeared at the 2003 edition in the United States. Marta recently returned from a serious knee injury but missed Brazil's recent defeat by England in the first Women's Finalissima.
Other players could also feature for a sixth time, including Canada's Christine Sinclair and Nigeria's Onome Ebi – who both turn 40 before the start of the tournament.
But there could be some notable absentees in Australia and New Zealand.
Spain could be without a number of key players, as a stand-off continues between 15 players and head coach Jorge Vilda.
The Netherlands, the 2019 runners-up, are likely to be without their Euro 2017-winning forward Vivianne Miedema who had surgery in December after rupturing her anterior cruciate ligament.
Miedema's Arsenal team-mate Beth Mead, who scored six times to help England win Euro 2022, is also likely to be missing because of injury.
"If a miracle happens and she goes [through recovery] so fast, we will reconsider it, but at this moment I don't expect that," England boss Sarina Wiegman said last month.