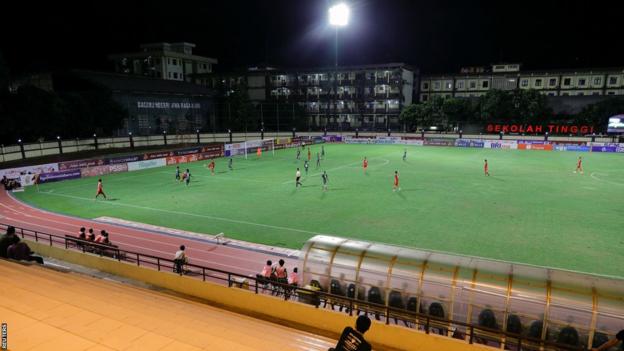 Two Indonesian football teams have played for the first time since their last match ended with one of sport's worst stadium disasters.
In October, 135 people died in a crush following a match between Indonesian clubs Arema FC and Persebaya Surabaya at Arema's Kanjuruhan Stadium.
The two rivals met again on Tuesday at a stadium owned by the national police force in Indonesia's capital Jakarta.
There were no fans present and Persebaya won 1-0.
Arema coach Joko Susilo said some of his team did not play because of the mental impact of the previous fixture.
"We understand all of that and here we are working hard, we have also prepared our tactics, any technical issues but mentally it's very difficult," he said.
"We know some of the players were deeply [traumatized], but that was our job."
Only a handful of media personnel were present inside the ground along with club officials and security guards. Hundreds of police officers were seen on guard outside the stadium.
A report found that tear gas fired by Indonesian police triggered the crush, despite tear gas being banned as a crowd control measure by football's world governing body Fifa.
The report said the disaster happened after Arema fans ran on to the pitch following their team's defeat to rivals Persebaya, and tear gas was then fired.
Hundreds then tried to flee through the exits, which caused a deadly stampede.
Two club officials were jailed last month after courts found Arema guilty of criminal negligence causing death. Another three people have been charged over the incident.
The reverse fixture was supposed to be played on 5 March but was postponed by police because of the risk of further trouble.