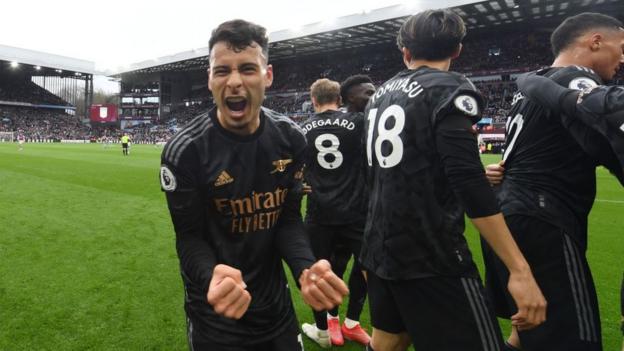 Oleksandr Zinchenko insists Arsenal can achieve "everything they want" after Mikel Arteta's side twice came from behind to beat Aston Villa and reignite their Premier League title hopes.
The Gunners scored twice in stoppage time to return to the top of the table and end a run of three games without a win.
Ollie Watkins gave Villa an early lead and Philippe Coutinho, making his first Premier League start under former Gunners boss Unai Emery, added a second after Bukayo Saka equalised.
Zinchenko then restored parity on the hour, before the drama kicked into overdrive with two stoppage-time goals – an own goal from Emi Martinez after Jorginho's strike hit the bar, and a breakaway finish from substitute Gabriel Martinelli.
"From this game I would like to say two things," Zinchenko told BT Sport afterwards. "First, we took an unbelievable lesson for all of us that we need to believe until the very end.
"Like I said in the past, this group has such amazing people, can achieve everything they want if we are going to keep fighting and keep believing. The reaction from all of us in the second half is a perfect way to go.
"We would like to go in the dressing room as soon as possible but there are still a lot of games to play and we just need to keep going, keep fighting and keep believing we can do everything."
As Zinchenko said, the Gunners learned a lesson – they are capable of finding strength and belief as the title race heats up.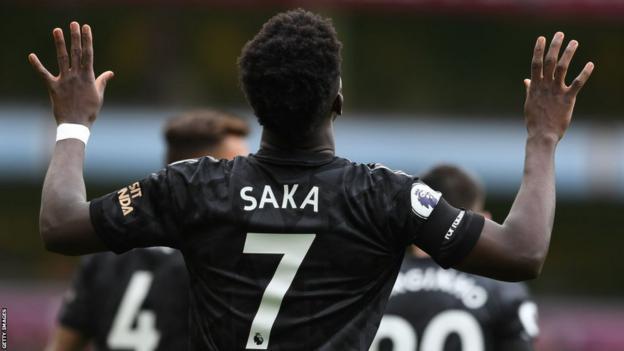 Arsenal show strength in adversity
Perhaps the most impressive thing was that Arsenal didn't panic. Chances came and went in the second half, and Villa carried a threat of their own, but the Gunners kept pushing and probing until they found the decisive goals.
It is also worth noting that they did so with Thomas Partey and Gabriel Jesus, two of their most important players, still sidelined.
Other key players, like captain Martin Odegaard and Saka, stepped up and took responsibility. This team clearly understands Arteta's approach and what he wants, and their togetherness is evident.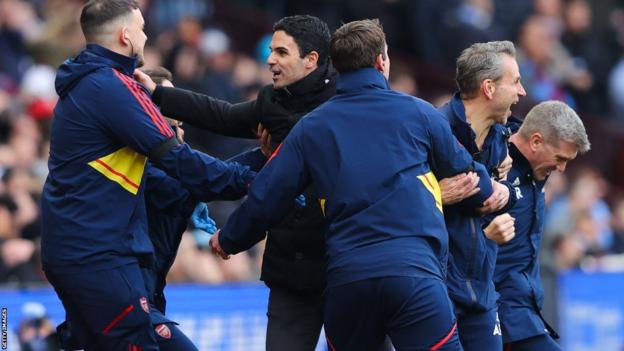 Former England midfielder Fara Williams told BBC Radio 5 Live the result was huge for Arsenal, who showed that their youth doesn't necessarily equate to naivety.
"It's massive for this young group of players at Arsenal. To overcome defeat in the manner they did, to bounce back after a midweek game away [against Manchester City] at Villa is difficult," she said.
"Winning the game in the second half is difficult. To get that win in the second half will be pleasing for Arteta and Arsenal."
Former England striker Peter Crouch, speaking on BT Sport, added: "A lot of people have been talking about Arsenal's character – can they sustain this title challenge? And they answered that today."
Gunners coped 'emotionally'
In his post-match interview with Match of the Day, Arteta lauded Jorginho but made a point of praising the team's emotional maturity in the way they fought back.
"Today I think we can take two big lessons," the manager said. "In the first half, we did the simple things wrong and in the second half we raised our individual level and did the simple things right. We totally merited the win.
"Jorginho produced an incredible moment. For us it will be Jorginho's goal. Psychologically it was really tough to get that result against Manchester City and then less than three days later we come to Aston Villa and win, which is a difficult thing to do.
"We showed character, quality and had the right temperament and personality. We didn't throw our toys away. Emotionally I think we coped really well."
Arsenal's joy on Saturday was added to by Chris Wood's late goal for Nottingham Forest, denying Manchester City the three points they needed to go back to the league's summit.
Now, the Gunners are back in control of their own destiny, sitting two points clear with a game in hand.
The criticisms of previous years – that the team is flaky, soft-centred and struggles to match intensity – had resurfaced in recent weeks but have been put aside again, for now.
Next up is a trip to a dangerous Leicester side, before Everton, the team that beat them only two weeks ago, head to Emirates Stadium.
There are plenty more challenges to come for this team – but after overcoming this one at Villa Park, they have shown they are capable of rising to those that lie ahead.