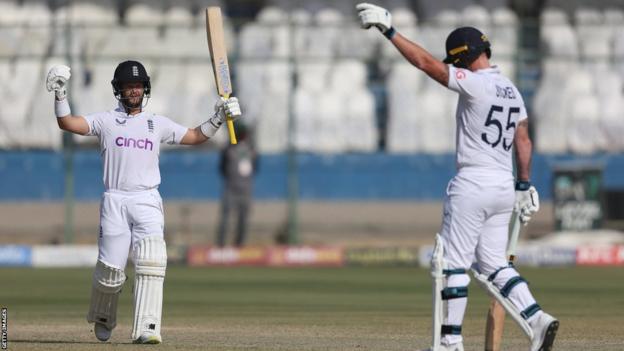 England batter Ben Duckett says he is hoping for a "niggly" Ashes series this summer.
The 28-year-old made his Test debut in 2016 but returned to the side for the 2022 winter series against Pakistan and New Zealand.
After impressive stints as an attacking opener, Duckett is in line for his first Ashes series, which starts on 16 June at Edgbaston.
"It's so positive that there is so much noise around the series," he said.
England have reignited their Test form in the last 12 months with an aggressive and entertaining approach that has seen captain Ben Stokes win 10 of his 12 matches in charge.
And Duckett said their style has played a big part in the anticipation surrounding the upcoming Ashes.
"I think people are seeing it as England having a huge chance to turn the Aussies over," Duckett told BBC Sport.
"The way we played in the winter, and then with their good form, it makes it really exciting.
"If I get the nod for an Ashes series, I'll be over the moon."
Australia are the number one ranked side in the world and will play the World Test Championship final at The Oval before the first Ashes Test.
But England bowler Ollie Robinson has said England could give them "a good hiding" in home conditions.
And Duckett added: "He is one of the best bowlers in the world at the moment and he'll back himself to get any of them [Australia] out on any day.
"I hope it's one of those niggly series'. Lots of players play with each other around the world now in franchise cricket so it's a tad more friendly than it was 10 or 15 years ago, but I can't imagine that they're going to come in and be friendly to us.
"I'm sure, as the next few months go on, there will be a lot more chat around it and I'm sure the Aussies will be giving an answer to what he [Robinson] said."
Stokes, currently at the Indian Premier League with Chennai Super Kings, said in an interview with Sky Sports that England's approach will not change during the series, regardless of the score or situation.
Duckett also believed their fearless brand of cricket will give England the "best chance" of success.
"I'll leave the declarations and decision-making to him because he's gone alright with it so far," added the Nottinghamshire player.
"Australia are probably the best bowling attack in the world, but we'll have our methods of scoring against them and it won't be dissimilar to what you saw from us over the winter."
Duckett starred at the top of the order during the winter, scoring his maiden Test century in the first Test against Pakistan at Rawalpindi and adding four further scores of more than 50 in the following four matches.
But despite the difference in conditions in England, Duckett was confident of sticking with his attacking mindset.
"You do have to adjust to different pitches and bowling attacks, but the way I play is the same," he said.
"I've been allowed to go and do that under Stokesy and Baz [McCullum] and in my opinion, that's why I've had the success that I have.
"I've been able to go out and play freely, always look to score and put the pressure back on the bowlers – and I will continue to do that."