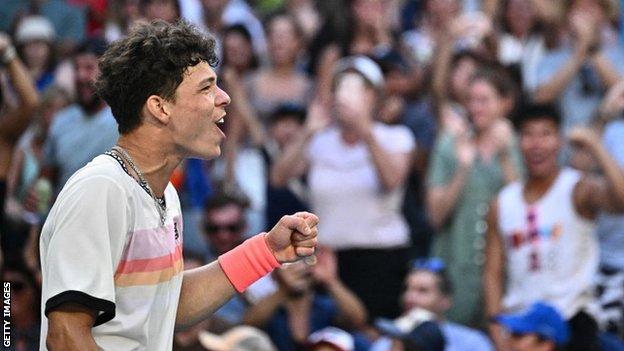 Venue:
Melbourne Park
Dates:
16-29 January
Coverage:
Commentary every day from 07:00 GMT on BBC Radio 5 Sports Extra 'Tennis Breakfast' live from Melbourne, with selected live text commentaries and match reports on the BBC Sport website & app
Ben Shelton had never been out of the United States before travelling to the other side of the world to start his Australian Open preparations.
Ticking off some of Melbourne's famous sights are on the to-do list for a talented youngster who is combining his burgeoning professional career with an online business degree.
For now, the tourist trips remain on hold.
"After the tournament, I will hopefully see a few cool things. You can't come all this way and not take in the sights," the world number 89 told BBC Sport.
"But right now we stick to the routine."
The routine is working. Shelton was ranked outside of the top 500 a year ago and still playing for the University of Florida college team.
He had never won a Grand Slam match before four victories at Melbourne Park over the past week.
On Wednesday, he faces his toughest test yet when he plays Tommy Paul – also an unseeded American but ranked 54 places higher – for a spot in the semi-finals.
"Leaving the States for the first time definitely felt strange at first," said Atlanta-born Shelton, whose father Bryan is a former professional on the ATP Tour.
"It took me a little bit of time to get over the jetlag and feel like I had got my feet under me after the trip.
"I'm feeling pretty good physically now but it was definitely a difficult adjustment.
"I've been across the States – from Florida to California – and got my passport in 2019. Finally I got to use it.
"Getting to see two new countries, Australia and New Zealand, has been a cool experience so far and I'm looking forward to seeing more of the world over the coming months when I'm on the tour."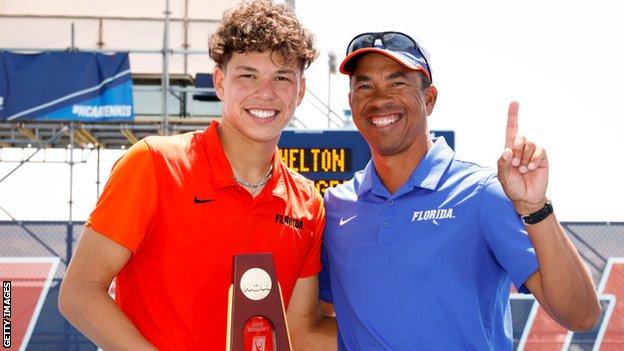 Shelton's only previous appearance at a major was a first-round defeat at last year's US Open, for which he earned a wildcard by winning the prestigious National Collegiate Athletics Association (NCAA) title in May.
By the time he played at Flushing Meadows in August, he had already turned professional and announced his arrival by shocking Norway's world number five Casper Ruud at the Cincinnati Open.
"If someone had told me then I would reach the Australian Open quarter-finals, I don't know what I would have said. Probably 'are you sure?'
"I didn't expect to be right where I'm at but I wouldn't say I'm totally surprised or can't believe it.
"The hard work I've been putting in on and off the court has begun to come out and pay off."
How to improve his game and what it takes to become a full-time professional are not the only things that Shelton has been learning.
He is continuing to study for a general business degree, taking two online classes – international business and entrepreneurship – and working on assignments while at tournaments.
"So far I haven't missed any due dates, I'm doing my assignments on time and I have a fairly easy workload. I'm not straining myself too hard," he said.
"When I have time off the court, usually when I'm settled down in the hotel room, maybe for an hour or two. It's good to have something outside of tennis to have focus on and take my mind off it.
"I enjoy doing my school work – to some extent – and I've been keeping on top of it, doing my assignments in advance so it doesn't get to the last day because it would get tricky with the time differences.
"I'm going to stick at it and I'm definitely going to try to get my degree."
While clearly academic, Shelton always seemed destined for a sporting career. But it did not appear that it would be tennis.
About the age of 10, he began playing with his dad, who reached 55th in the world rankings and won two titles in Newport, but he also excelled at a variety of sports at a young age.
"I grew up playing every sport: basketball, soccer, baseball, but I really fell in love with American football," he said.
"I was a quarterback and I played for six or seven years, but that was the decision I had to make when I was about 12 years old: Do I focus and specialise in tennis or American football?
"I swore I wouldn't play tennis: it was Dad's thing and I was going to let him have it.
"But I'm glad I made this decision and I'm happy with where I'm at."