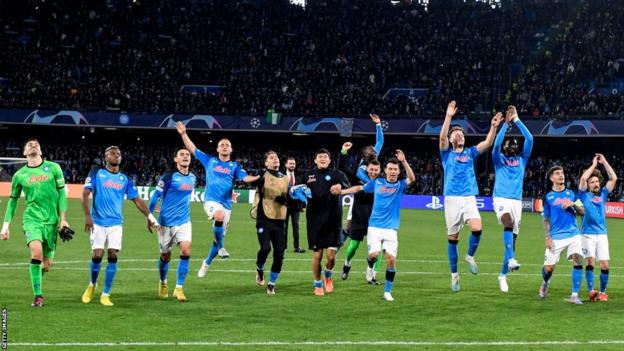 Twenty years ago an Italian presence in the latter stages of the Champions League was a regular occurrence.
But at the beginning of this season not even the most optimistic Serie A fan would have dreamed three Italian sides would reach the quarter-finals of Europe's premier club competition.
However, as the last eight arrives there are three Italian representatives – last season's Scudetto winners AC Milan face this year's runaway leaders Napoli, while Inter take on Benfica.
The last time Italy saw three clubs reach the quarters was in 2006. Three years earlier, three teams made the semis, while no Italian side has won the competition since Inter in 2010.
So what sparked the Serie A renaissance?
Why did Serie A fall behind?
Italian sides used to be a part of the European elite. Unsurprisingly, their strength coincided with economic power, which saw star names attracted to Serie A.
Things have changed dramatically in the past 15 years. The arrival of billionaire owners across the continent has changed the balance of power and the way clubs do business.
Italian clubs' presidents tended to be businessmen who used their teams as a PR tool to pursue local interests – see TV tycoon and politician Silvio Berlusconi at AC Milan, or Callisto Tanzi and his Parmalat holding at Parma.
The new owners of international football have stormed in with global resources, goals and methodologies. Italian football, rooted in its traditions and defects, failed to keep up. It had neither the ability nor the will to plan ahead, create a system and attract foreign investors.
Potential buyers decided to take their businesses to other leagues in Europe with foreign capital only recently bolstering Italian clubs' coffers.
Things have finally started to change, and seven Serie A clubs – including Milan and Inter – now belong to foreign owners, five from the US, one from Canada and one from China.
Napoli's masterpiece of a summer
The general state of Italian football hasn't changed much in the past 10 years, but a lack of resources forced some clubs to act more soberly.
Napoli are the perfect example. President Aurelio de Laurentiis bought the club in 2004 as it went bankrupt and the Partenopei have since experienced steady growth.
On the pitch, Napoli have been Serie A runners-up three times and won three Coppa Italia titles, while playing European football for 13 years in a row. Off it, they kept their books tidy, growing step by step – before last summer's masterpiece.
The club sold stalwarts such as Lorenzo Insigne and Kalidou Koulibaly, signed superb talents like Khvicha Kvaratskhelia and Kim Min-jae on cheap deals, and have seen Victor Osimhen become the most-wanted striker in Europe – all while reducing the total payroll by 30-35%.
Under Luciano Spalletti Napoli are the most surprising team of the year and the most exciting to watch, pairing quality and consistency both at home and abroad.
The whole club grew through planning and the power of ideas – revenues from Gonzalo Higuain's transfer to Juventus and Edinson Cavani and Ezequiel Lavezzi's moves to Paris St-Germain were not used to buy over-expensive replacements.
Year after year, De Laurentiis and the technical staff kept building.
Milan mix youth and experience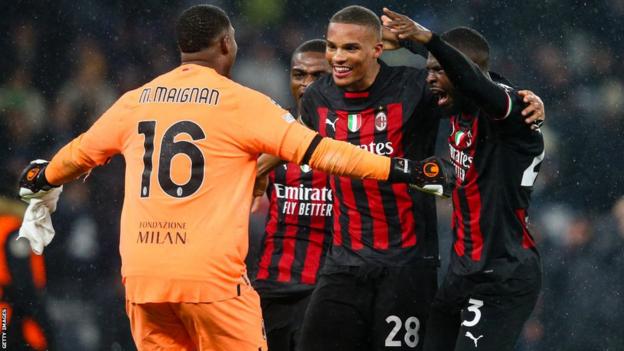 AC Milan's story is similar to Napoli's, albeit shorter – today's Rossoneri are the result of a project built on the ruins Berlusconi and Chinese businessman Yonghong Li left behind.
The latter bought the club off Berlusconi in April 2017, only to hand it over 448 days later to American hedge fund Elliott after defaulting on a payment.
Red Bird Capital took over from Elliott last summer and have continued the style and strategy put in place.
It has been based on a few solid pillars: the identity given by Paolo Maldini's return; the recruitment of promising youngsters like Rafael Leao, Mike Maignan, Pierre Kalulu and Malick Thiaw; and the winning mentality instilled by experienced players such as Olivier Giroud and Zlatan Ibrahimovic.
Two seasons ago, the Rossoneri ended a seven-year drought by qualifying for the Champions League, and then won their first Italian league title in 11 years in 2022.
Milan are attractive to sponsors and very active on the business side of things – they have stakes in fashion, music and show business.
It is a shared project at all levels, based on an attack-minded manager in Stefano Pioli and the strict respect of Uefa's economical parameters. Lacking the money other clubs could spend, the Rossoneri based their resurrection on ideas and attractive football.
Inter's obstinate defence pays dividends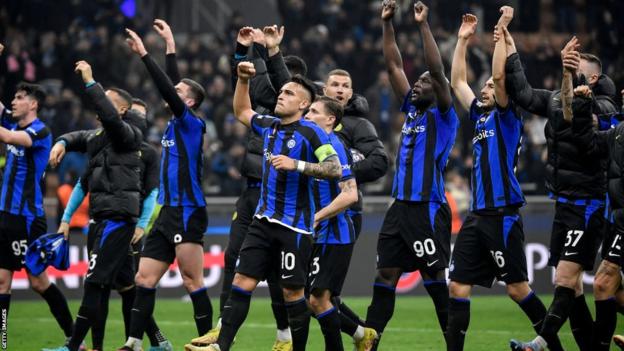 Of the Serie A clubs still in the competition, Inter boast the most mature squad and the biggest wage bill, although their financial situation might force them to sell players in the summer.
Romelu Lukaku was off-loaded two years ago to Chelsea, just to come back on loan after a disappointing season in London, while Milan Skriniar has not extended his contract and will leave as a free agent to PSG in July.
Premier League clubs also seem keen on signing Andre Onana and Denzel Dumfries.
Inter are less proactive compared to Napoli and Milan but have earned their place in the last eight – obstinate defence saw them past Porto in the last 16 after they deservedly survived a group which included Bayern Munich and Barcelona.
"[Inter] are a tactical team, waiting for opponents' mistakes to hurt them, while [Napoli and Milan] are strategic teams, willing to impose their style of play," former Milan boss Arrigo Sacchi said in Gazzetta dello Sport.
"The will to play football always pays off. Milan and Napoli have more chances to get to the end of the competition."
What is the real state of Italian football?
Was Roma's Conference League trophy the first of many to come for Serie A clubs in Europe? What was the effect of a World Cup played in winter, with no Italian players involved? There is no easy answer.
The Azzurri deservedly won Euro 2020, but have not played in a World Cup for the past decade. They also started their new European qualification campaign on the wrong foot, losing to England in Naples.
Boss Roberto Mancini has called up Argentina-born Mateo Retegui in his search for a centre forward, and is ready to look abroad for more players with Italian heritage to boost the national side.
Asked about the potential renaissance of Italian football, Mancini said: "It hasn't happened, this is club football. Only six or seven Italian players are actually part of Napoli, Milan and Inter's starting XIs.
"Thirty-three players would have been fantastic; 50% of them good, 30% also OK. The thing is, some U19 games in Italy take place without a single Italian player on the pitch."
It is a fact that Italian clubs have a problem with their academies. Where are all the present and future Pirlos, Tottis and Del Pieros?
Overall, there are six Italian clubs in the quarter-finals of the three European competitions, a quarter of the total; Milan, Napoli and Inter are joined by Juventus and Roma in the Europa League and Fiorentina in the Conference League.
One Italian club is guaranteed to play in the Champions League semi-finals, and it will be two if Inter can eliminate Portuguese opponents for a second round in succession.
But is this a one-off or can Italian clubs repeat the feat next year?
Realistically, the economic gap between Serie A clubs and European football's superpowers remains vast – and it will not be bridged any time soon.
However, that financial chasm has forced some clubs to think out of their usual Italian box with Napoli, Milan and Inter's runs this season proof Serie A sides can succeed.
But those successes do not extend to the whole of Italian football.
Not all that glitters is gold, as Italy know all too well after their struggles since winning the Euros at Wembley.