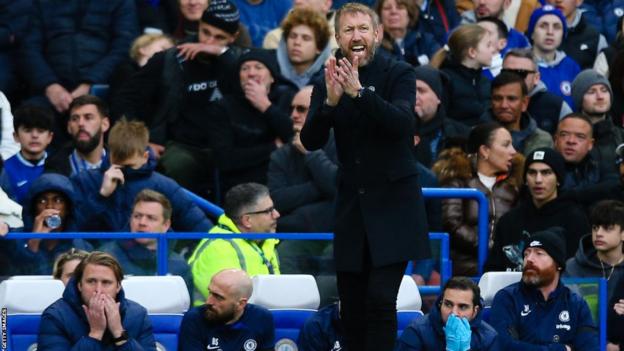 Former Chelsea goalkeeper Rob Green says the club's manager Graham Potter faces an "unmanageable situation" with his inflated squad.
The Blues have spent £583m on new players in the past two transfer windows under owner Todd Boehly, with eight new signings arriving in January.
Chelsea have won two of their last 14 games and Green says the fans are starting to turn on Potter.
"With the amount of players there, it's an unmanageable situation," said Green.
Speaking on BBC Radio 5 Live's Monday Night Club, Green added: "Once the crowd turns, it starts to get ugly and the players get affected and go into their shells.
"You can already see it from the players, from an attacking perspective and then it gets harder."
Chelsea have struggled in front of goal and they have not scored twice in a game since the start of November. Despite all of their new arrivals, they were unable to sign a recognised striker last month.
Former Blues striker Chris Sutton says Potter "has had a lot to deal with".
"With so many players coming in, he is uncertain on his starting line-up so he has chopped and changed and you never get continuity when you do that," Sutton said on the Monday Night Club.
"Goalscoring is a problem and he has kicked Pierre-Emerick Aubameyang out so they do not have a recognised striker.
"But I like that Todd Boehly, on the face of it, is backing him long term.
"They have probably looked at Arsenal and what has happened with Mikel Arteta where all their fans wanted him out, but they stuck with them and look at where they are now."