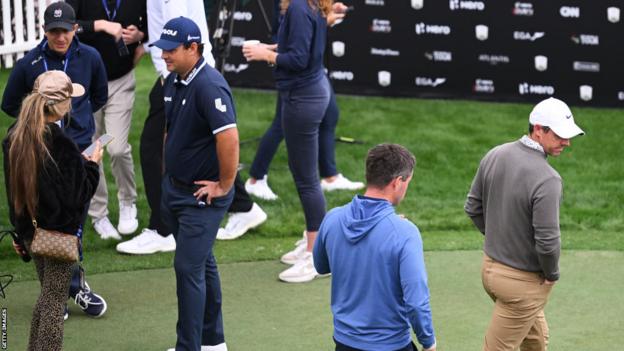 Rory McIlroy enjoyed "a pretty wild 45 minutes" at the rain delayed Hero Dubai Desert Classic as he completed a first-round six-under 66 on Friday.
Returning to the par-three seventh, his 16th, McIlroy knocked in a short birdie putt, holed a 116-yard shot for an eagle, and then birdied the ninth.
Patrick Reed eagled the 18th to join McIlroy on six under with many players still to complete their first round.
"It was extremely sweet," world number one McIlroy told BBC Sport.
McIlroy has been embroiled in a row with Reed after ignoring the American on the practice range last Monday. Reed sarcastically tossed a tee in the Northern Irishman's direction as he walked off.
But McIlroy confirmed that on Thursday morning he had spoken to Reed, a member of the rival Saudi Arabian-backed LIV tour, at their hotel and informed him of the rain delay which cost the tournament six hours play on its opening day.
"Ironically the first person I saw was Patrick Reed," Mcilroy said.
"Look, it's fine. It's been blown out of proportion and once the golf starts it's nice that we can all just focus on the birdies and the bogeys and not all the rest of the nonsense."
McIlroy enjoyed the six shots he played to complete the three holes he had left to in his first round. He resumed with a delicate birdie putt on the short seventh and was grateful he had chosen not to play it on Thursday evening.
"I was in two minds whether to hit the putt or not but I'm glad I didn't," he said. "It was getting dark and after being able to read the putt properly this morning I definitely would have missed that putt low last night."
McIlroy then hit a wayward drive into hard packed sandy wasteland on his penultimate hole before making a spectacular recovery.
"The tee shot I lost to the right, which I've been doing a lot; that's the struggle I'm having right now," he said.
"But the second shot was 116 yards up the hill, a bit down wind. It was a perfect down the grip 54-degree wedge.
"Out of those lies I just have to make sure I get the strike. I have a tendency to hit those heavy so once I knew I had the strike right, I looked up and the ball was on line, I knew it was going to be pretty good.
"I obviously didn't think it was going to go in the hole and that was definitely a bonus."
Reed, who missed the cut in Abu Dhabi last week, was delighted with his first round which culminated in an eagle at the par-five 18th.
"To come out this week and feel like I was able to put everything together and to have my mind right on game planning and course management was definitely a plus," said the LIV golfer.
"I feel like I had full control of the golf ball and made a couple putts."
Friday morning's resumption of the first round was delayed by two hours by further overnight rain. With a total of eight hours lost to the unusual desert conditions, the tournament may spill into a fifth day or be cut to 54 holes – ironically the duration used by the breakaway LIV tour.
"We can go on until Tuesday next week if we have to," McIlroy smiled before adding pointedly: "I'm a fan of 72-hole golf, as you know."
Swedish amateur Ludvig Aberg has the clubhouse lead on seven under, with numerous players, including England's Ian Poulter, still completing their opening rounds.