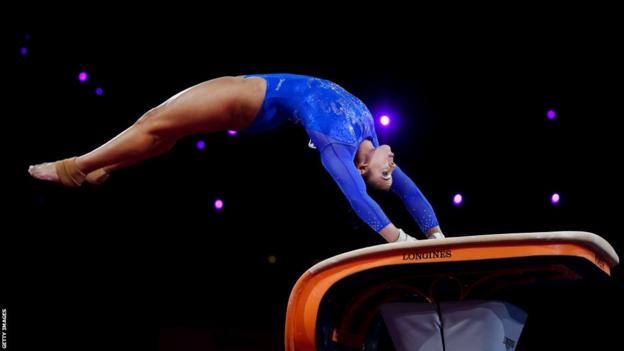 Ellie Downie, who won Great Britain's first all-around gold at a major championship, has retired from gymnastics aged 23 to prioritise her "mental health and happiness".
She won 12 medals in her senior career, including the historic all-round European Championship gold in 2017.
Downie said she was retiring with a "heavy heart and an array of emotions".
"After a really tough last few years I've made the decision to prioritise my mental health and happiness," she said.
"Gymnastics has been my life for as long as I can remember and I am proud of everything I was fortunate enough to achieve.
"Competing and winning medals for Great Britain has meant everything and more to me and I'll miss it enormously."
Downie finished 13th in the all-around at the 2016 Olympics despite falling badly on her head during a tumbling routine.
She became the first British gymnast to win all-around gold at a major international championship with victory at the European Championships the following year.
Downie lost her brother Josh in 2021 after he suffered a heart attack during cricket training.
She decided to take time away from gymnastics after her brother's death and did not go to the delayed Tokyo Olympics.
In 2020, Downie and her sister Becky said abusive behaviour in gymnastics was "ingrained" and "completely normalised".
Last year, the Whyte review found systemic abuse in the sport in Britain.