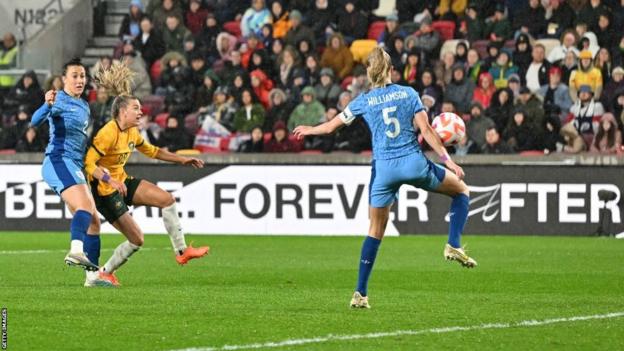 England captain Leah Williamson said the friendly defeat by Australia on Tuesday evening was her toughest night with the Lionesses.
The 2-0 defeat ended England's 30-game unbeaten run and was their first loss under manager Sarina Wiegman.
Williamson said England were hurting as they enter the final months before the 2023 World Cup.
"The whole team feels really rubbish about losing. It hurts," Williamson told ITV4.
The Arsenal centre-back was at fault for Australia's opener, as her attempted header back to goalkeeper Mary Earps from a long ball was intercepted by Sam Kerr, the Socceroos striker chipping the visitors in front.
Williamson also had an inadvertent role in the second goal, deflecting Charlotte Grant's header past Earps in the 67th minute.
These were Australia's only two shots on target and England had 71% possession, but the European champions were far from their best.
"We looked like we lacked ideas on the ball, and we got punished," Williamson said. "It was my mistake for the first goal, and they were ruthless on the counter.
"Sometimes in football you have those games. We weren't as efficient as we usually are, we need to figure out why."
Asked whether this was her toughest night in an England shirt, she said: "Yeah. I'm not one for dwelling on personal things, it's part of the game – I choose to be a professional footballer, to put myself in the position where I need to not do those things."
England must now regroup as they look ahead to the World Cup. Their opening group stage game comes against Haiti in Brisbane on 22 July.
But Wiegman feels England are still in a good place for the tournament, despite below-par showings against World Cup co-hosts Australia and versus Brazil in the Finallissima, when they won on penalties after conceding a late equaliser to draw 1-1 after 90 minutes.
"I'm not worried. I don't worry very quickly," Wiegman added. "We know we have to be at the top level when we go into the World Cup.
"Every game we get warnings. We did against Brazil. We know where we want to go to and what we have to do. I don't think we're losing momentum. I think it's building and this is just a very good learning for us to get to the high level to win these games."
This was England's first defeat under the Dutch coach since she took charge in September 2021, which included their triumphant run at Euro 2022.
Wiegman said of the run ending: "I haven't been focused on that at all. We just want to win every game.
"We don't talk about that. We want to improve every game. Yes it would be really nice to have the 31st win – I would like that too – but sometimes you win and sometimes you lose. I hope we win a lot of course."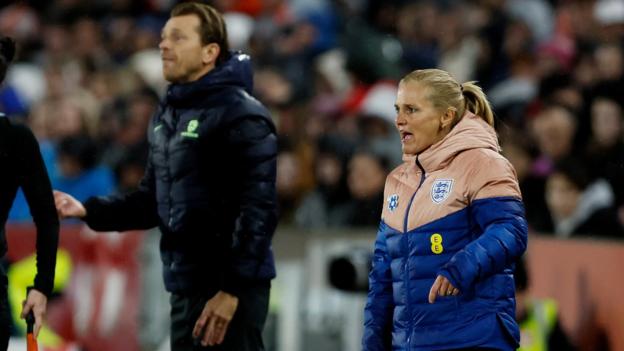 England midfielder Kiera Walsh was circumspect after the game about the defeat, saying they had to lose at some point while admitting she and her team mates did not move the ball quickly enough.
"It's a tough lesson for us but equally an important one, and shows us where we need to improve going into the World Cup," the Barcelona midfielder said.
"It's been a long run without a loss and we'd rather it happen now than at the World Cup. Although it's disappointing we've still got a lot of work to do before the summer.
"As players we don't think about it [the unbeaten run], we want to win each game anyway. The next loss is always around the corner, you're not going to go on an unbeaten run forever and we're aware of that.
"All of us looked a bit flat in the first half, there wasn't a lot of movement or ball speed. The message in the second half was to play a lot quicker and I think we did that to an extent, but we still didn't create a lot of clear-cut opportunities so that's something to work on."