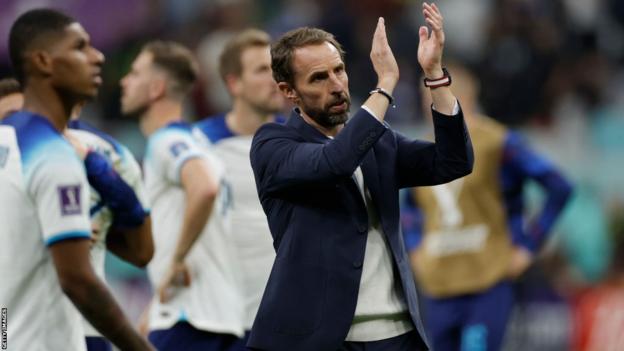 England may have left the World Cup in Qatar broken once again after the disappointment of defeat to France in the quarter-final but manager Gareth Southgate obviously believes nothing needs fixing.
Southgate's squad for the Euro 2024 qualifiers away to Italy in Naples and against Ukraine at Wembley is heavy on loyalty to the England team that performed creditably in Qatar despite falling short once more.
The most eye-catching selection, on several levels, is the inclusion of Brentford striker Ivan Toney after an outstanding season with 16 Premier League goals.
Toney was selected for the Uefa Nations League games against Italy and Germany last September but surprisingly remained unused before disappearing off the radar completely when it came to the World Cup.
The 26-year-old's inclusion is merited but is made against the backdrop of Toney facing the prospect of a suspension after accepting he had broken Football Association betting rules.
He has admitted some, but not all, of 262 charges made against him by the FA, and will next have an appearance in front of a disciplinary panel.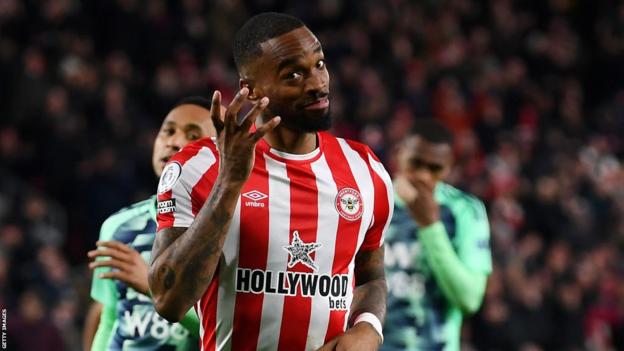 Toney is only four goals behind England captain Harry Kane in the league goalscoring charts and his development under manager Thomas Frank at Brentford makes him a complete striker at domestic level.
He effectively takes the spot of Newcastle United's Callum Wilson, who was in Qatar, although Chelsea forward Raheem Sterling is not included because of a fitness issue.
Southgate correctly stated that, with Toney is still playing for Brentford, there is no reason to exclude him from England.
The same applies to Manchester City's Kyle Walker, who is currently the subject of a police investigation following a newspaper allegation that he exposed himself in a bar.
"It's a complicated situation", said Southgate. "I've spoken at length with Kyle. The fact as we're sitting here is that he's back playing with his club. There is no conclusive evidence to leave him out at this stage. I think I have to be very careful about being the moral judge on things."
Elsewhere, it is more of the same from Southgate as trusted players such as Chelsea defensive pair Reece James and Ben Chilwell return after missing the World Cup through injury.
Southgate will say, with some justification, that there is not a host of new names screaming to upset England's status quo. However, the focus will be on several inclusions who are included very much on past form.
There may also be the usual lobby for Arsenal's Aaron Ramsdale to replace Jordan Pickford as number one and, while the Gunners' man has been excellent this season, Everton's keeper once again showed his reliability in Qatar, and has been outstanding despite his club's continued struggles.
Harry Maguire survives after a good World Cup, despite barely playing under Erik ten Hag at Manchester United while Kalvin Phillips is also in despite spending most of the time on the sidelines since his £45m move to Manchester City from Leeds United last summer.
Both are fortunate that Southgate places such stock in previous performances for him because they have done little this season to justify inclusion. Maguire, in particular, is trading in the old currency of never having let England down, at least not in Qatar.
Crystal Palace's Marc Guehi is back as Everton's Conor Coady is excluded, probably ending his England career, while Tottenham's Eric Dier is another who is the beneficiary of Southgate's loyalty after an indifferent season.
Chelsea's Mason Mount, another who has not played regularly, is also in along with Liverpool captain Jordan Henderson, who is 33 in June and has struggled with injuries.
The biggest post-World Cup casualty is Henderson's Liverpool team-mate Trent Alexander-Arnold, who has never quite convinced Southgate he should be his first-choice right-back and is now out after the return of Chelsea's James.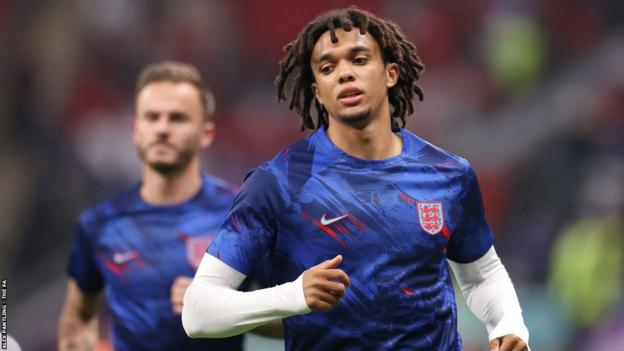 Alexander-Arnold can have few complaints after a poor season with Liverpool as they have been a pale shadow of the side chasing four trophies last term.
The 24-year-old's defensive limitations, always the counterpoint to his magnificent attacking qualities, have been increasingly exposed among Liverpool's struggles this season and the more rounded James was always going to be Southgate's preference.
Brighton's Solly March had his advocates, along with Aston Villa's in-form striker Ollie Watkins, but Southgate rightly pointed he could make no case for selecting him ahead of Arsenal's Bukayo Saka, Jack Grealish of Manchester City and Manchester United's Marcus Rashford.
Was Watkins going to push ahead of the likes of Kane and Toney? Very unlikely.
Brentford's Rico Henry has also been touted but Southgate clearly feels he is well blessed at left-back with Chilwell, Manchester United's Luke Shaw and with the reliable Kieran Trippier also able to operate in that role.
The overall feeling is that Southgate was happy with what he saw in Qatar, quarter-final exit aside, and totally trusts the bulk of that England squad to get them off to a fast start in their quest to reach Euro 2024.