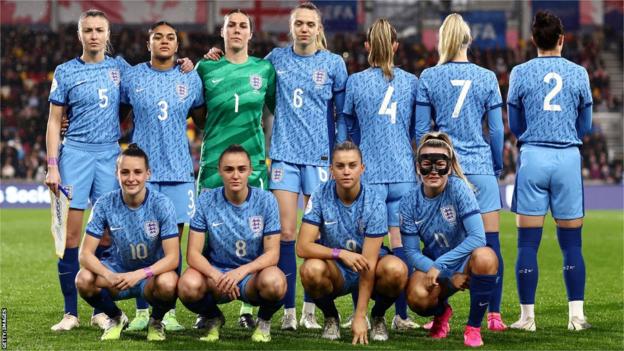 Players in Tuesday's international friendly between England and Australia wore shirts without their names on to raise awareness for dementia.
A third of the players had the nameless shirts to highlight the ratio of people born in the UK who will develop the disease.
Different players wore the shirts after half-time to highlight the confusion and memory loss of those with dementia.
The sold-out match has been designated an 'Alzheimer's Society International'.
A mural has also been unveiled at Brentford's Gtech Community Stadium of key moments in the Lionesses' recent history – including their Euro 2022 victory – with fans encouraged to add their own memories.
The nameless shirts will be auctioned after the match to raise funds for research.
The Football Association has announced plans to extend its official partnership with Alzheimer's Society until 2024.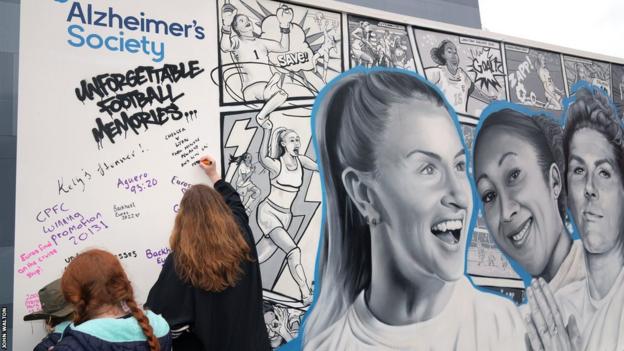 This month, it was revealed a group of former football, rugby league and rugby union players who have been taking legal action claiming they suffered brain injuries playing their respective sports, has grown to 378.
The group includes relatives of England's 1966 World Cup winner Nobby Stiles, who died in 2020.
Stiles had prostate cancer and advanced dementia. His brain was diagnosed as having chronic traumatic encephalopathy (CTE) – a form of degenerative disease dementia which is believed to be caused by repeated blows.
Research in 2019 showed that ex-footballers were three and a half times more likely to die of dementia than the general population.
A study into reducing the risk of dementia in former footballers, funded by the FA and world governing body Fifa, was launched last year.
Last month the Premier League said it was "disappointed" that a trial of temporary concussion substitutes had been rejected by football's law-making body, the International Football Association Board (Ifab).
Brain injury charity Headway also criticised Uefa in September for not allowing concussion substitutes in the Women's Champions League after Arsenal and England's Beth Mead suffered a head injury against Ajax.
Over the past two seasons, the FA partnership with Alzheimer's Society has raised over £400,000.
England, who won the inaugural Women's Finalissima last week, are preparing for the World Cup which kicks off in July and is co-hosted by Tuesday's opponents Australia.