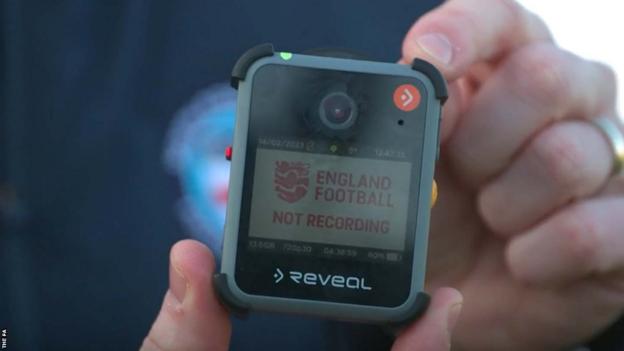 Referees in four English grassroots leagues are set to wear bodycams, in what the Football Association says is the first such trial in the world.
The trial starts this weekend in Middlesbrough before being extended to Liverpool, Worcester and Essex.
FA chief executive Mark Bullingham said he hoped it would have a "positive impact" on behaviour towards officials.
In a recent BBC questionnaire, hundreds of referees said they feared for their safety.
The trial, approved by football law maker the International Football Association Board (Ifab), will see 100 officials wear bodycams in adult grassroots leagues within the initial three months. Recorded footage will be available to be used in disciplinary hearings as appropriate.
If successful, the trial will be extended to additional grassroots leagues during the 2023-24 season.
"Referees are the lifeblood of our game and we thank Ifab for its support in allowing us to undertake this new grassroots bodycam trial, the first of its nature globally," added Bullingham.
"We have listened to feedback from the referee community, and we hope this trial will have a positive impact on the behaviour towards them – so that ultimately they can enjoy officiating in a safe and inclusive environment."
More than 900 referees in England responded to a Radio 5 Live questionnaire, with 293 saying they had been physically abused by spectators, players, coaches or managers.
Some described being punched, headbutted and spat at.
Almost all the respondents had experienced some form of verbal abuse.
The president of the Referees' Association in England, which distributed the questionnaire to its 7,000 members, said the abuse of match officials was having a significant impact on their mental health and they are only ever "one decision away from a smack in the mouth".
"One day in this country a referee will lose his or her life. It happened in Holland a few years ago and they really changed their culture in football," said Paul Field.