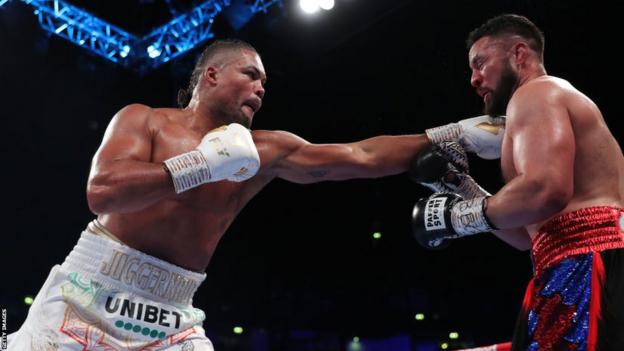 Undefeated professional and 2020 Olympic bronze medallist Frazer Clarke writes for BBC Sport about fellow British heavyweight Joe Joyce's fight against Zhilei Zhang at London's Copper Box Arena on Saturday.
Joyce won silver in Rio 2016 and is undefeated in 15 professional fights. He is the WBO interim champion and mandatory challenger to Oleksandr Usyk's world title.
Can China's Zhang derail Joyce's world-title aspirations? And how would the Londoner fare against other big names in the division?
Right now, I'd put Joe Joyce behind Tyson Fury and Oleksandr Usyk as the third-best heavyweight in the world.
The 'Juggernaut' is like an oak tree with arms that don't stop punching. As a heavyweight you need a good jab, fitness, a solid chin and a nice right hand to finish it off. Joe has all of those attributes.
He is massively underrated but he's the man in the division. He doesn't go shouting his mouth off, and then delivers in the ring.
With the likes of Fury and Anthony Joshua having led the way in recent years, Joe has gone under the radar a little. But now he's being mentioned in the same breath as those two; his stock has risen massively.
On Saturday he faces Zhilei Zhang, who is definitely not a walkover. He's a really credible opponent – a dangerous, heavy-handed heavyweight.
But with the route Joe is on, with a world-title shot looming, he would literally juggernaut his way through anybody to become a champion.
Joyce deserves more credit
Joe only turned professional six years ago after winning silver at the 2016 Olympics. He probably should have been awarded the gold medal in a split-decision loss.
He deserves more credit than anyone in the division. He has been mandatory for the WBO heavyweight title for almost two years, but risks it all by taking on tough challenges.
His last fight, against former champion Joseph Parker in Manchester, was one of the best heavyweight contests I've been to in a long time.
Joe can break people down. He throws some lovely body shots which go unnoticed. And he can lead off with the hook, like the punch which put Parker down.
He hits very hard and very often. That is a recipe for destruction against anyone in the world. You hit it hard enough and often enough, it breaks.
Defensively there are a few question marks but his granite chin has made up for it so far. He's relentless and hard to keep off. He can up the tempo to a level where you can only compete with him for a few rounds.
Sometimes there are gaps to punch into with Joe's chin a bit exposed. He also got caught with a body shot against Bryant Jennings which troubled him a tiny little bit. Zhang will get an opportunity but whether he hits hard enough to take Joe out is another question.
To beat Joe, you need to manoeuvre him a little bit, make it difficult to get those shots off. But I wouldn't say Zhang has that movement. He looks a bit too flat footed to me.
A quiet, respectful man with good manners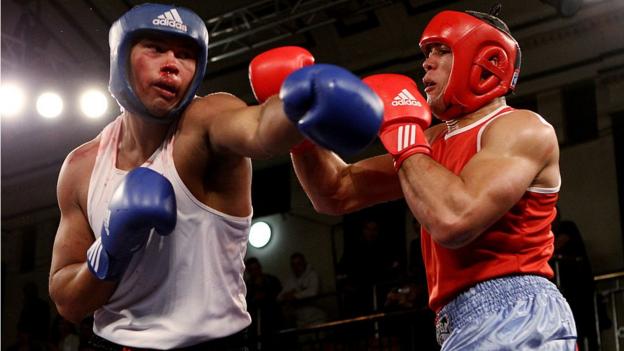 Me and Joe were on the same Great Britain team in the amateurs, both competing for the same spot. I wouldn't say we were ever friends but there was never a dislike there.
He pretty much kept himself to himself. He liked his video games and his art and just go on with his job. He never got too involved with anyone else, did his own thing but was happy enough doing it.
He's just a very nice man. I met his family, they were lovely people. He has been brought up the right way, is always polite and has time for everyone.
I've always supported and respected Joe, even if people might find that difficult to understand as there might come a time in our career where we get back in the ring together.
He does gets a lot of stick for not being the greatest trash talker. Some people have got it, some others haven't. I can ramble on for days, but I'd swap my talking with Joe's engine any day of the week. He does his talking in the ring which is something a lot of fighters can't do.
When it comes to manners and respect, he's right up there. People need to get off his back and instead applaud him for being the fighter he is.
Joyce & 'AJ' spars were unbelievably entertaining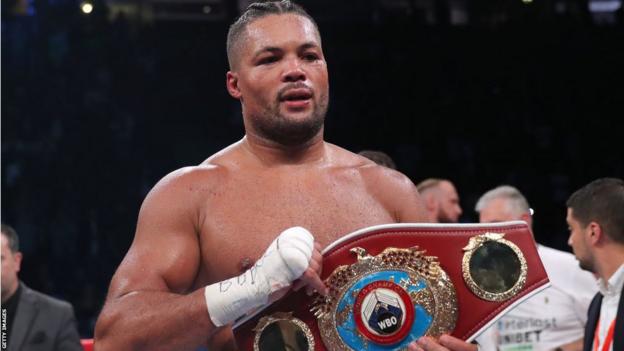 With how hot the heavyweight division is right now, Joe will be sitting there smiling and rubbing his hands. There are a lot of fights out there for him, and all of those he is capable of winning.
I would love to see him face Anthony Joshua if he beats Zhang. They are ex-team-mates. I've seen them spar in the ring and it was unbelievably entertaining.
For the first time in Joshua's career, he's got a bit to prove to people after the points win over Jermaine Franklin. Joshua is being written off by too many people which is strange for me when you look at his record.
Could I pick a winner right now? Probably not. A year or two ago, I'd definitely have said 'AJ' but at the moment it's a level playing field. Joyce may even have the edge.
A fight between Joe and Tyson would be an interesting clash of styles. The skilful boxer in Fury against the aggressive Joyce. Can Fury hold him out for 12 rounds? I'm not sure. But could I bet against that happening? No.
Joe is the mandatory challenger for Usyk's WBO title. Even though that fight might not happen soon, with Usyk having to face WBA mandatory Daniel Dubois or IBF number one challenger Filip Hrgovic first, I'd say that is the most difficult fight for my fellow Briton.
Usyk mixes boxing with movement and he can do it for 12 rounds. The early rounds Joyce would struggle to get close to him.
But I wouldn't write Joyce off against anyone. With how good he is and how he's taken to professional boxing, he should become a world champion.
And I hope he does. He's one of the good guys in boxing.
Frazer Clarke was talking to BBC Sport's Kal Sajad.