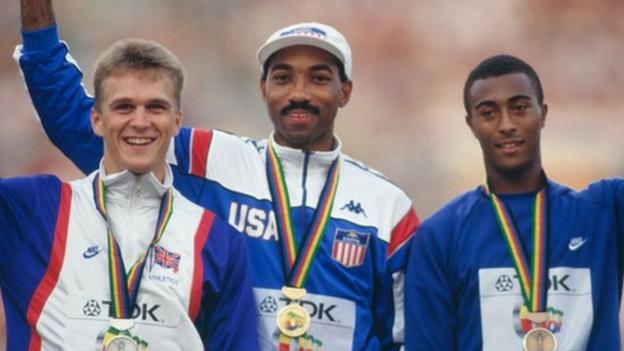 Tributes have been paid to former world champion hurdler and Olympic medallist Greg Foster who has died aged 64.
The American won gold in the 110m hurdles at the World Athletics Championships in 1983, 1987 and 1991.
He also won the 110m hurdles silver medal at the 1984 Los Angeles Olympics.
Former British hurdler Colin Jackson, who competed against Foster, described him as "an inspiration" while American multiple Olympic champion Michael Johnson said he "left a great legacy".
Foster was suffering from amyloidosis, a rare disease in which a protein build up causes organ damage.
He had a transplant in 2020 as a result of the disease but died on Sunday.
Double world champion Jackson, 56, wrote on social media: "Greg was an inspiration for me, I watched his hurdle skill work, spoke to him how I could improve and competed with him. His input eventually allowed me to take the world title and the championship record off him… he was very much part of my success."
Four-time Olympic champion Johnson also paid homage to Foster, who remains the only male athlete to win the 110m hurdles at three consecutive World Athletics Championships,
"Incredible consistency and longevity as a hurdler," he wrote on social media: "He also valiantly fought this illness for several years. He will be missed but left a great legacy."
World Athletics CEO Jon Ridgeon, also a former hurdler and rival of Foster, said he was "a fierce competitor on the track but always a warm, generous and friendly man away from the intensity of competition".