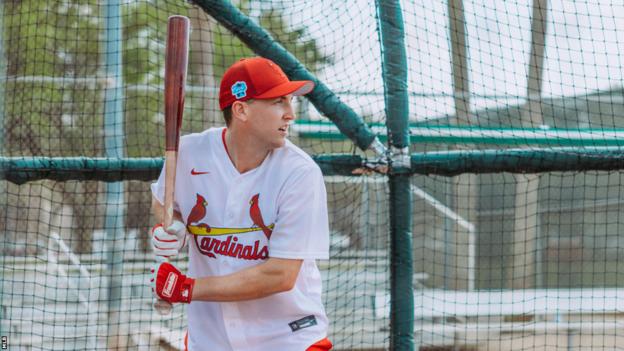 If you were asked to pick one current England cricketer to play baseball, you'd probably choose Harry Brook.
Before long a seat in the stands to watch the Yorkshireman bat will come with a public health warning.
Since last summer he has made the best start to a Test career by any batter in recent memory, become a T20 World Cup winner, an Indian Premier League millionaire and now trained with the St Louis Cardinals baseball team.
"I struck them alright," the 24-year-old says. "I was hitting into the wind. I'm getting my excuses out there now."
Brook has never watched a game but is now an ambassador with Major League Baseball. The Cardinals play the Chicago Cubs at the London Stadium in June, a series which will be shown live on the BBC.
On a whistle-stop trip to Florida, he trained with the Cardinals as they prepared for an MLB game.
"I have quite high hands when batting but in baseball they wanted to get them above my head nearly," Brook says.
"I am used to hitting it through point and they had all of the TVs and iPads up where I would usually hit the ball.
"They were getting quite scared."
With a cricket bat in hand, Brook has made a habit of clearing the ropes. In a warm-up match in New Zealand last month he hit a leg-spinner for five sixes in an over.
"I was wishing I didn't block the first ball," he says.
"The first ball it was instinct. We had a short boundary to the leg side and he bowled it quite nicely. The next balls weren't so good so I put them away."
That matter-of-fact analysis sums up Brook's uncomplicated nature as a person and a batter.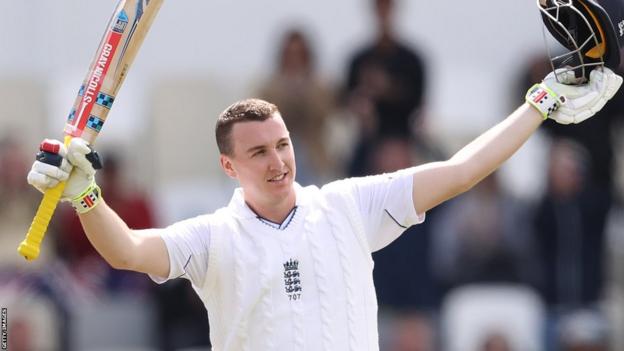 In interviews he is straight-talking and to the point, but answers almost have to be prised from him.
As a batter he has a simple technique, to the untrained eye at least, and when he gets on one of those six-hitting sprees there is little else in his mind.
"After three or four in a row you are thinking 'let's do this' – let's get five or six," Brook says.
The result has been Brook launching assaults on a record held by a man he admits "he had never heard of" before last year's pre-Christmas series against Pakistan.
Gilbert Jessop, whose 76-ball century against Australia in 1902 is the fastest by an England player in Tests, is now under constant threat, not just by Brook but also from many of his England's team-mates, given the new attacking approach under captain Ben Stokes and coach Brendon McCullum.
"Not at the start [of an innings], but when I do get close I would be lying if I said I wasn't thinking about it," Brook says. "It is in the back of my mind."
Brook, whose next assignment is the IPL where he has been signed by Sunrisers Hyderabad for £1.35m, has always been highly-rated, ever since he became Yorkshire's fourth-youngest centurion with a hundred against Essex as a 19-year-old in 2019.
His ability with bat in hand is obvious. He has also worked hard to hone a calm temperament.
"I have worked on that side of the game massively," he says.
"I broke my hand when I was in the Under-19s, punched a table, and that was a bit of turning point. Ever since then I have just sat down, put my bat and stuff away and cracked on."
If that story sounds familiar it is because Stokes did something similar, when he broke his hand punching a locker and missed the 2014 T20 World Cup.
The all-rounder will lead England in the Ashes against Australia this summer, with Brook surely now inked in as a key man.
Assuming he plays, the first Test will be Brook's first experience of Ashes cricket – he has not even attended a day as a fan.
He has, however, gained some experience of Australian cricket culture after spending a winter in Sydney playing grade cricket.
"No matter what level, they are very competitive people," Brook says.
"Some of them probably think they are a little bit better than they are.
"There was a lot were saying they could have played first-class cricket in England when they were just playing grade cricket in Australia."
In Sydney, Brook averaged more than 50. He also got an introduction to another Ashes classic, the sledge, albeit not as much as he might have.
"There were little bits, one or two games, where there were fairly big sledges," Brook says. "I don't sledge but I have copped a bit in my time.
"I scored quite a few runs. People don't tend to give you much when you are scoring runs."
So will he be ready for anything sent his way in the Ashes?
"To be honest I don't care – I really don't care," he says with a smile.
"The way I am going to play, the way we are playing, we will look to be positive and put pressure on them.
"If they bowl a bad ball I will try and hit it for four or six.
"It doesn't matter who you are – whether you are the best bowler in the world."
As baseball legend Babe Ruth said: "Don't let the fear of striking out keep you from playing the game."