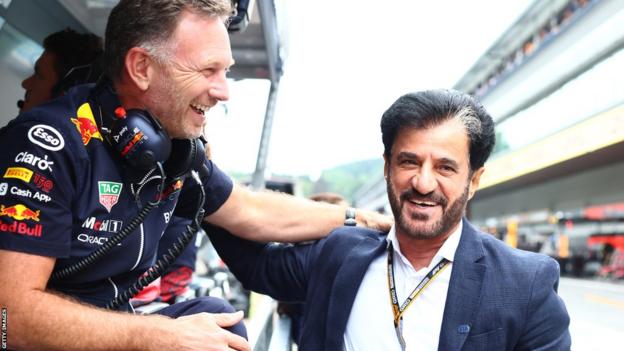 FIA president Mohammed Ben Sulayem did not attend Tuesday's meeting of Formula 1's rule-forming body, the F1 Commission.
The meeting was chaired by new FIA F1 single-seater director Nikolas Tombazis and F1 president Stefano Domenicali.
Among a series of changes was a revision to the points system to avoid the controversy that arose at last year's Japanese Grand Prix, when Max Verstappen and his Red Bull team were not clear whether the Dutchman had won the world title.
The controversy arose because the rules had been changed with the intention of clarifying the points system for races that did not run to full distance, but the wording used had failed to achieve its aim.
The new wording is aimed at reflecting the original intention of those changes, which were meant to introduce a scale of points reductions for races depending on how much of the original distance had been completed.
Among other additions to the rules, new, improved wet-weather tyres were approved.
These will be introduced for the first time at the Emilia-Romagna Grand Prix, the fifth race of the season on 16-18 April.
The tyre is said to be "more performant than the previous specification" – the poor performance of the Pirelli 'extreme' wet tyre has been a major factor in wet races being afflicted by delays so long that the intermediate tyre is usable as soon as they are started.
A statement from F1 and governing body the FIA added that the new tyre does not require the use of tyre heating blankets, which the FIA is trying to phase out on sustainability grounds.
And teams will help assess new bodywork aimed at reducing spray and increasing visibility in wet conditions.
Among other changes agreed were a relaxation of the regulation of radio messages between drivers and teams at grands prix, and of the use of 'parc ferme' at the sprint events.
Parc ferme is a motorsport term describing a system by which cars are not allowed to be worked on by teams beyond a certain point of the weekend, other than to replace damaged parts and other small changes.
The new approach "allows a greater scope to change components that are prone to getting damaged".
A winter shut-down period has been introduced for both teams and power-unit manufacturers, mirroring a similar one in the summer which applies only to teams
A number of changes to circuits were also approved:
Modifications to Saudi Arabia's Jeddah street track to improve visibility on corner entry

A complete resurfacing of the Azerbaijan and Miami street circuits

Greater space between pit stop positions at Zandvoort in the Netherlands

And a new pit building and paddock infrastructure at Losail in Qatar.
The changes are all subject to approval by the FIA's legislative body, the World Motorsport Council, which Ben Sulayem chairs.