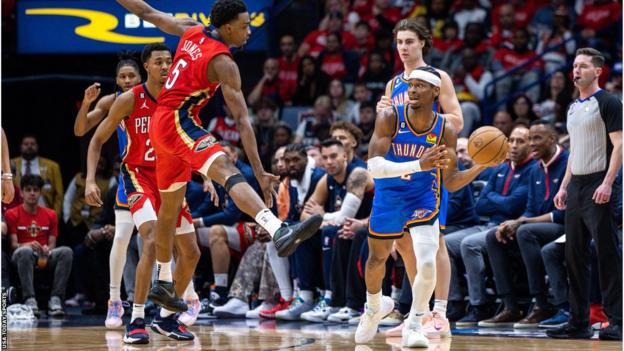 The Chicago Bulls and the Oklahoma City Thunder remain in the hunt for a place in the NBA play-offs after winning their first play-in games on Wednesday.
Zach LaVine hit a game-high 39 points as the Bulls came from 19 points down to win 109-105 at the Toronto Raptors.
Josh Giddey had 31 points, 10 assists and nine rebounds as the Thunder won 123-118 at the New Orleans Pelicans.
The Bulls and Thunder play again on Friday for the chance to claim the final play-off spot in each Conference.
Chicago, who had a 40-42 record in the regular season, visit the Miami Heat (44-38), with the winners to face the Milwaukee Bucks, the Eastern Conference's top seed, in the first round of the play-offs.
Oklahoma City (40-42) travel to the Minnesota Timberwolves (42-40) for the right to take on the Denver Nuggets, the top seed in the Western Conference.
The Raptors, the 2019 champions, and the Pelicans are now eliminated from play-off contention.
Toronto led by 19 in the third quarter but the Bulls did not relinquish the lead after going 96-93 up with just over five minutes remaining, with DeMar DeRozan finishing with 23 points.
The Pelicans led by six at half-time but Oklahoma City's Shai Gilgeous-Alexander scored 25 of his game-high 32 points in the second half and Gilgeous-Alexander's basket with 28.3 seconds left gave them the game-winning lead.