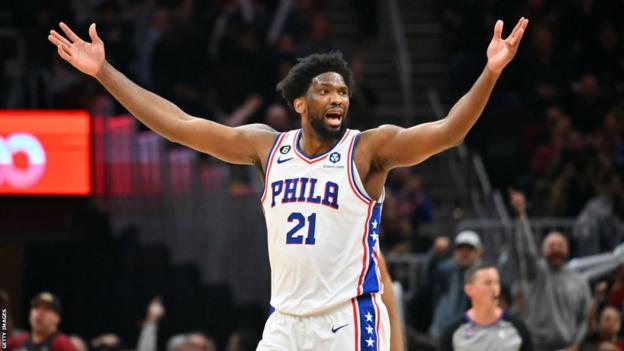 The Philadelphia 76ers claimed a sixth successive NBA win by beating play-off rivals the Cleveland Cavaliers 118-109.
Joel Embiid scored 38 points as Philadelphia strengthened their hold on third place in the Eastern Conference while the Cavaliers remain fourth.
"I'm excited about the post-season but we have a lot of games coming up – we have to take them one at a time and try to get better every day," Embiid said.
Elsewhere, the Boston Celtics edged out the Minnesota Timberwolves 104-102.
Stephen Curry recorded his second 50-point haul of the season but the Golden State Warriors lost 134-126 to the Los Angeles Clippers.
Reigning NBA champions Golden State face a battle to make the Western Conference play-offs, occupying fifth spot but with four other teams within two wins of them.
Miami Heat comfortably defeated the Memphis Grizzlies, who are third in the West, 138-119.
The Grizzlies were without star guard Ja Morant, who has been suspended for eight games after streaming a video of himself holding a gun while intoxicated in a nightclub.
There was also a surprise defeat for the injury-hit Los Angeles Lakers who, without LeBron James and Anthony Davies, lost 114-110 to the Western Conference's bottom team, the Houston Rockets.