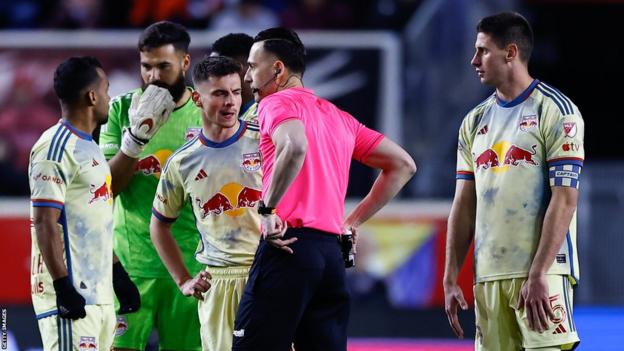 New York Red Bulls forward Dante Vanzeir has apologised for using a racist remark during his side's MLS game against San Jones Earthquakes.
Play was stopped for about 15 minutes during Saturday's 1-1 draw after a confrontation involving Vanzeir.
On Tuesday Belgian forward Vanzeir, New York Red Bulls and manager Gerhard Struber issued apologies.
Vanzeir said he was "deeply sorry" and will agree to any "suspension, fine and counselling" given by the league.
"I will do everything I can to be part of the change that needs to happen in this sport and our world," he said.
"I also want to apologise to my team-mates, coaches, the organisation and our fans. I made a mistake and will take all the necessary steps to grow. 
"I accept full responsibility for my actions. While I did not intend to cause any harm or offence with my language, I know that I did and for that I am deeply sorry."
The MLS has been investigating the allegation of racist language relating to the second-half incident.
San Jose Earthquakes striker Jeremy Ebobisse made the initial allegation following Saturday's game, although he did not name the Red Bulls player.
In the second half he was seen reacting angrily to Vanzeir before a scuffle broke out between the players and play was halted for about 15 minutes.
Ebobisse said San Jose's players considered leaving the field but chose not to "because the player who said the word claimed it was not aimed at any of us".
Vanzeir, who was making his first Red Bulls start after joining from Belgian side Royale Union Saint-Gilloise, played on until he was substituted in the 86th minute.
His manager Struber apologised and said he should have should have substituted Vanzeir immediately.
"I made a decision that I thought was best given the information I had at that moment," he said.
"While there was a lot of uncertainty at the time, with the information that I now know, the right decision would have been to immediately remove Dante Vanzeir from the game."
The Red Bulls said in their statement the "words and inaction was inexcusable".
"The New York Red Bulls wholeheartedly apologise for the unacceptable events that transpired on Saturday night during the match with the San Jose Earthquakes," they said.
"We always strive for an environment that is inclusive and anti-racist. Our organisation is committed to providing the resources to further educate our players and staff, as well as rebuilding trust within our community."