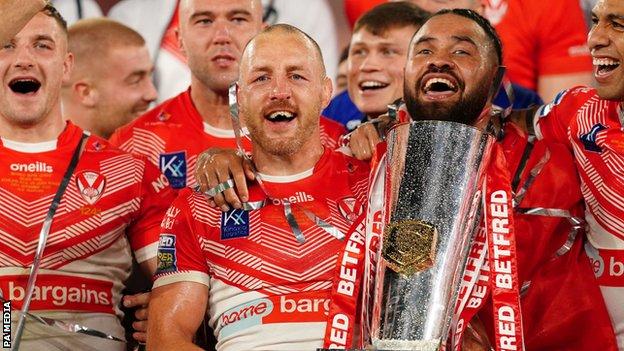 Relegation would be scrapped for 'Category A' Super League clubs under proposals made by sports management company IMG after the sport's "most comprehensive consultation ever".
Rugby league's strategic partner has proposed that top-flight clubs meet on and off-field criteria to be guaranteed their place in the league.
Among the other proposals is a joined-up calendar with international matches.
There is also a push for a strategy to boost the women's and girls' games.
Not all of the clubs involved in Super League would necessarily be Category A graded, with highest-ranked Category B clubs making up the division.
Those clubs' performance, in terms of on-field and off-field criteria, would be monitored on a yearly basis to decide which clubs made up the elite Super League, as it is presently known.
The remaining clubs would fill the second and third tier divisions, currently the Championship and League One – with clubs continuing to move between those leagues.
Rugby league and a form of licencing is no new concept, with Super League handing out three-year licences to clubs in 2009 before a period of reapplication, lasting until the 2015 season – when promotion and relegation returned.
The number of overseas clubs, such as French sides Catalans Dragons and Toulouse – who were both in the 2022 Super League – would also be capped under the plans, and standards imposed to support growth domestically.
Clubs will have chance to provide feedback on the proposals at a meeting on 13 October.
Other recommendations by IMG include:
A re-positioned calendar which optimises flow, narrative and engagement, incorporating regular "peaks" of interest and a compelling season climax.

Operations to be centralised where this can maximise efficiencies and drive incremental revenue (e.g. ticketing and digital infrastructure).

A new brand strategy to be introduced and aligned with the above commercial strategy.
'We see a real growth trajectory' – IMG on rugby league
Potential is one aspect which has encouraged IMG since their decision to become involved with rugby league, particularly with a home World Cup to come this autumn.
The sport's core fanbase too is seen as a building block in their push to drive the game to new markets.
"It's a sport we look at and see a real growth trajectory," IMG vice-president Matt Dwyer told BBC Sport.
"It's an incredibly exciting game on the field, and we think it's a sport where we can realise a different trajectory going forward.
"I'm not sure it's make or break, this is a sport with an enormous fanbase. It's relative for its market. There's a part of the country where this is a very big sport and there's another part of the country where it doesn't make headlines – that's a narrative we want to change as part of this."
Promotion and relegation is a prevalent system in British sport, unlike sport in Australia and America sport – the former already having a dominant rugby league code in major metropolises such as Sydney and Brisbane.
However, growing a league where teams can be at their most competitive is IMG's reasoning behind the return to a grading system.
"We're at a point where we want to elevate the teams in the top tier to a standard where they are able to put on the best product they can to engage and excite the fans," he added.
"To do that we need to be pushing clubs towards improving their operations and their standards going forward, so the grading system we've introduced as part of proposals is the objective is to encourage clubs to invest towards that standard.
"Investment is a big decision, especially if we want to be getting external investment, and we need to demonstrate there is some security going forward.
"If someone wants to invest there is an opportunity for them to protect and grow that investment."
Analysis – 'Announcements cause buzz of cautious optimism'
Dave Woods, BBC rugby league correspondent
The proposals lack details, but there are enough headlines to make today's announcement intriguing and, in many ways, positive.
It looks likely that Super League will be dropped as a title in favour of new branding that would reflect the whole of the game.
The changes that have been proposed to decide the make-up of the top tier will be the most controversial.
A grading system, placing clubs in a Category A, B or C banding will be seen as a return to the licensing system that the sport dropped as unworkable.
IMG insist the difference this time is that the gradings will be closely monitored on a year-to-year basis, that an independent body will determine those gradings and that clubs will be moved either up or down depending on how they perform in all the marked categories.
Although the top division will be made up of 12 teams between now and 2025, that could be increased if the number of Category A clubs exceeds 12 in the future.
The reduction of the number of matches per season, with the scrapping of loop fixtures and the Magic Weekend, will satisfy those who have demanded a less brutal fixture card for overworked players. How that plays with owners and CEO's, who brought in the loop fixtures to help them pay the bills, remains to be seen.
IMG have targeted London as a high priority for expansion. They say a club in the capital is vital. But that has been tried so often before without anyone ever able to ensure sustained success.
But they are confident they can succeed where the likes of ex-Brisbane Broncos supremo Barry Maranta and Richard Branson have failed. It'll be interesting to see how they go about it.
An earlier Challenge Cup, with a final in May, will be applauded.
There is a buzz of optimism on the back of today's announcements. The game needs some fresh thinking and IMG will get broad general support from a rugby league community desperate for some domestic positivity.
But it will be cautious optimism. The game has had several false dawns since the initial explosion of exposure when Super League and summer rugby league came to pass in 1996. It's fingers crossed that this is the real deal.