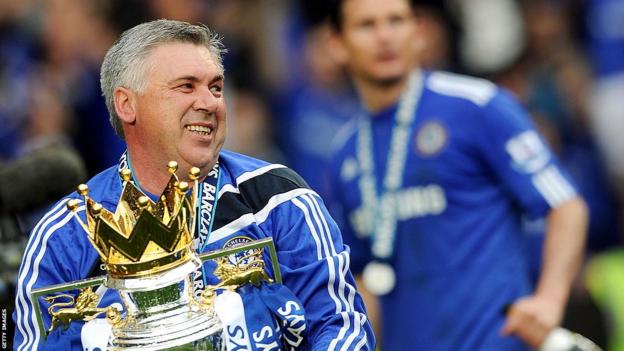 Real Madrid head coach Carlo Ancelotti says he is "sad" about Chelsea's form this season as he prepares to face his former side in the Champions League.
Real and Ancelotti, who won the Premier League and FA Cup with the Blues in 2010, welcome Chelsea to the Bernabeu on Wednesday for their quarter-final first leg.
Chelsea are 11th in the league and suffered early FA and League Cup exits.
They are on their third manager of the season in interim boss Frank Lampard.
"I am sad, yes," said Ancelotti. "I have a fantastic memory of this club, of the people that are still working there.
"I'm a supporter of Chelsea, of course, because I spent two really nice years there."
Lampard, appointed as Graham Potter's replacement until the end of the season on Thursday, was a Chelsea player under Ancelotti during the 63-year-old Italian's two years in charge.
Ex-midfielder Lampard is in his second spell as Blues boss, and Ancelotti is confident the 44-year-old can turn the club's fortunes around.
However, Ancelotti – whose Real side won last year's Champions League and are looking to lift the trophy for the sixth time in 10 seasons – has ruled out a second stint at Stamford Bridge himself.
"I hope that Lampard is able to do a fantastic job with them," he said. "He has 20 years' less experience [than me], but that will not change what will happen in the game.
"He was a fantastic player, extraordinary, he knows very well what can happen in these games but experience, in these matches, I don't think counts for much.
"He arrived at the club a week ago, with a lot of players that he already knew. I think he'll do well in the time that he's at Chelsea."