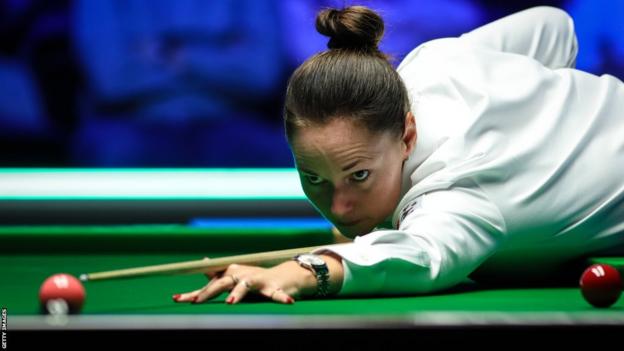 Reanne Evans beat former world champion Stuart Bingham 60-8 to become the first woman to win a match in the one-frame Snooker Shoot Out in Leicester.
Evans, 37, the 12-time women's world champion, made an early break of 21 before pulling clear to seal a memorable win.
"I think I wasn't expecting that much and that did the deal," Evans told Eurosport.
"I know I won, but that's the first time I felt a little more relaxed."
Evans' reward for her victory over the 2015 world champion and her first in a professional event since 2017, is a draw against world number 17 Gary Wilson.
However, world number two and home favourite Mark Selby is out of the competition after losing 22-20 to Mark Davis.
In Thursday's other matches, amateur Michael Holt, who won the event in 2020 while still on the professional tour, made the highest break of the tournament so far with a superb 116 in his win over China's Lei Peifan.
Dominic Dale and Matthew Stevens contested the first 'blue-ball shoot out' of this year's competition, having finished tied at 49-49.
Dale edged out former Masters and UK champion Stevens to progress into the second round, but David Gilbert's disappointing season continued with a 35-30 defeat to Asjad Iqbal.
Sign up to My Sport to follow snooker news on the BBC app.