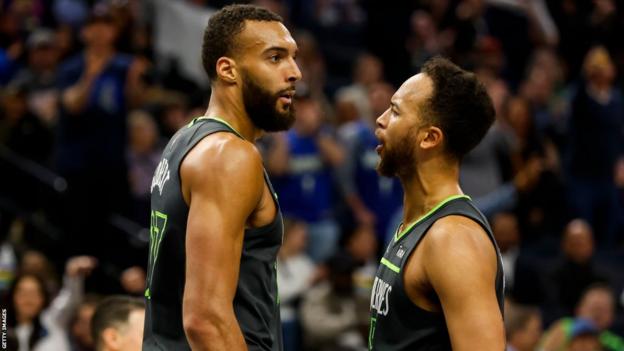 Minnesota Timberwolves centre Rudy Gobert has apologised after throwing a punch at team-mate Kyle Anderson during his team's 113-108 win over the New Orleans Pelicans.
Frenchman Gobert, 30, appeared to hit Anderson in the chest and the pair were separated by players and coaches.
He was sent home early by his team for "unacceptable" behaviour.
"Emotions got the best of me," said Gobert.
In a tweet, he added: "I should not have reacted the way I did regardless of what was said.
"I wanna apologise to the fans, the organisation and particularly to Kyle, who is someone that I truly love and respect as a team-mate."
Victory saw the Timberwolves edge past the Pelicans into eighth place in the Western Conference and clinch a spot in the play-in tournament and a tie against the Los Angeles Lakers for a place in the play-offs.
Asked about the incident after the game, Anderson, 29, added: "We want to win games. It is what it is. It ain't the first time someone has swung on me."
Tim Connelly, Minnesota's President of Basketball Operations, said: "We made the decision to send Rudy Gobert home after the incident in the second quarter.
"His behaviour on the bench was unacceptable and we will continue handling the situation internally."