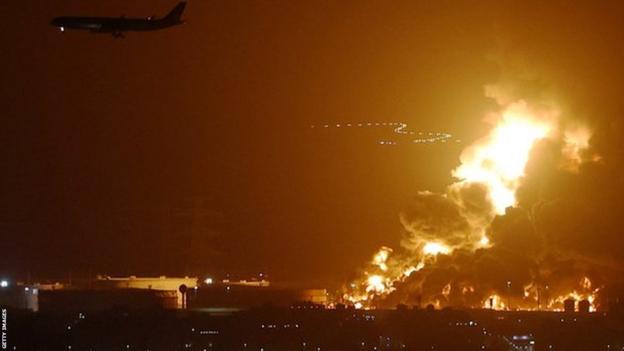 Lewis Hamilton and a number of fellow Formula 1 drivers have made it clear they are uncomfortable about being back in Saudi Arabia.
Last year's race was dominated by a missile strike by Yemeni rebels against an oil refinery close to the track, after which drivers had misgivings about racing.
On Thursday's media day, Hamilton initially refused to answer questions about the situation but later added that F1 was "duty bound to raise awareness" of human rights issues.
The drivers have been given reassurances by Saudi authorities and F1 bosses that a series of steps have been put in place to ensure this year's event is not disrupted in the same way and that their safety is not under threat.
They have been told that there is a ceasefire in place between Saudi Arabia and the Houthi group in Yemen.
Haas driver Kevin Magnussen said: "Last year was pretty, erm, special. None of us enjoyed it. but it is a different situation now, there is a different political… there is a ceasefire between the two parties that were involved last year and that gives some confidence.
"Anyway, we go to these places and we just have to deal with it the best we can and get through."
Alpine's Esteban Ocon added: "It was scary what happened last year and none of us wants to ever experience something like that, but we trust everyone around to put us in a safe situation to race."
Aston Martin's Lance Stroll and Red Bull's Sergio Perez said they trusted F1 and the race organisers to look after them and that they believed positive change was happening in Saudi Arabia, which has been accused by human rights groups of widespread abuses.
Hamilton was the last to answer in the official news conference on matters of safety and human rights, and initially said that he believed "the opposite to everything they [Stroll and Perez] said".
Pressed on whether he was referring to human rights or safety, he said: "I don't want to get into either."
But when asked whether he had ever considered not racing again in Saudi Arabia, he said: "If I am not here, F1 will continue on without me so what I try to do is learn as much as I can.
"I still feel that as a sport going to places with human rights issues such as this one, the sport is duty bound to raise awareness and try to leave a positive impact.
"I feel it needs to do more. What that is I don't have all the answers but we always need to do more to try to raise awareness of things people are struggling with."
Human rights group Reprieve has accused F1 of "never seriously engaging with human rights and the way the sport is used to whitewash abuses by some of the world's most repressive regimes".
Its director Maya Foa said that there had been at least 13 executions in Saudi Arabia in the last two weeks.
Foa added: "Carrying out these executions on the eve of the Jeddah Grand Prix is a brazen display of impunity by the Saudi authorities, confident that the sport and its commercial partners will stay silent, and that the pageantry of F1 will distract from the bloodshed.
"Drivers are being put in the impossible position of wondering how many more will be executed over the four days of qualifying and racing. The sport's human rights problem has never been more glaring."
And the family of Abdullah al-Howaiti – a Saudi man who is on death row for crimes the regime says he committed when he was 14, and which he says he was tortured into signing a confession for – have written to Hamilton thanking him for raising the case last year.
F1 said in a statement: "For decades Formula 1 has worked hard be a positive force everywhere it races, including economic, social, and cultural benefits.
"Sports like F1 are uniquely positioned to cross borders and cultures to bring countries and communities together to share the passion and excitement of incredible competition and achievement.
"We take our responsibilities very seriously and have made our position on human rights and other issues clear to all our partners and host countries who commit to respect human rights in the way their events are hosted and delivered."