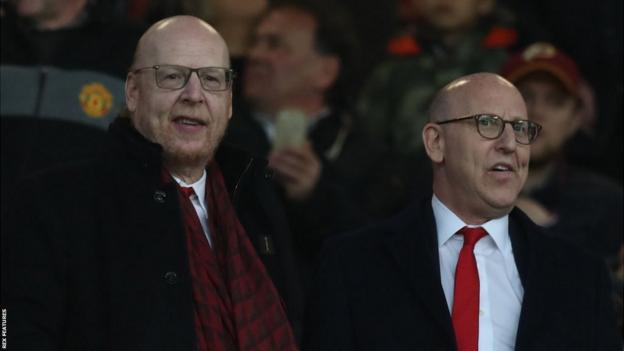 It is 142 days since the Glazer family said they were considering selling Manchester United.
The process has been protracted, as you might expect for a potential £6bn transaction, and on Wednesday a vocal bidder pulled out after the Glazers' decision to go to a third round.
"The bidding is turning into a farce, with the Glazers giving no respect to the club," Finnish entrepreneur Thomas Zilliacus said.
Zilliacus' involvement has not exactly been taken seriously by those involved in the process but his words have resonated, with many starting to wonder: what is going on?
What do we know about why this has gone to a third round of bidding?
The obvious reason why there would now be a third round of bidding is either no bidder has reached the price the Glazer family are looking for, or the family believe they can get more out of those who have bid.
It is not clear whether the Glazers are unified in their analysis of the situation. Co-chairmen and brothers Joel and Avram have always been more invested in the club personally but Bryan, Kevin, Edward and Darcie are directors too.
Who is still in the running?
The only publicly known bidders are Qatari billionaire Sheikh Jassim and Sir Jim Ratcliffe's Ineos group.
Sheikh Jassim wants to buy 100% of United, while Ineos want the Glazer family's 69% shareholding and are happy to leave the rest of the club on the New York Stock Exchange.
Elliott Investment Group have revised their involvement from purely offering funding to being prepared to buy a minority stake. The US firm have not said exactly how big a 'minority' they are willing to purchase.
Will the deal be done before the start of next season?
It should be – however, unlike the Chelsea sale last year, there is no deadline on this deal.
The initial feeling was a sale would be completed by the end of March. Even taking delays into account, it was expected a deal would be sorted by the end of the season.
Evidently, the March deadline has passed. There is barely five weeks from what is believed to be the deadline for third offers and the end of the season, which is not a great deal of time.
What does it mean for manager Ten Hag?
At the very least, it creates uncertainty.
While there are Financial Fair Play (FFP) rules that have to be adhered to – and in their recent second-quarter accounts United's overall debt stood at almost £1bn – Erik Ten Hag knows he needs to improve his squad this summer and the players he wants will cost a lot of money.
United are desperate for a striker. Borussia Dortmund and England midfielder Jude Bellingham, for instance, would command in excess of £100m. A much cheaper alternative would be Marcel Sabitzer, currently on loan from Bayern Munich. Ten Hag needs to know if he could for example sign England skipper Harry Kane or Napoli's Victor Osimhen, plus an elite midfielder, or if he must set his sights lower.
What is the feeling among Man Utd fan groups?
There is no consensus about who should buy the club. Some want Sheikh Jassim, others want Ineos, others would prefer the club to run itself through the revenue it generates. What they seem to be united in is a demand for the Glazers to leave.
Former United captain Gary Neville said this week on social media the Glazers were "making it up as they go along" and need to get out "by the end of May". Many fans would argue even that would be too long.
United missed out on hosting Euro 2028 games because it could not guarantee Old Trafford would be ready. That in itself is because of the prevarication around improving the stadium, which is likely to cost £1bn.
What is the next stage in the process?
The ball remains in the Glazers' court. The next bids are believed to be due by the end of this month, then it is back to the Glazers to decide on the next steps.
All parties are acutely aware the family could decide not to sell. However, if they do not do so now, when could they?
If Sheikh Jassim in particular does not complete a deal, could another Qatari attempt to buy into a different Premier League club be successful? That in turn would make it even harder for United to compete for trophies – and cost the Glazer family even more.