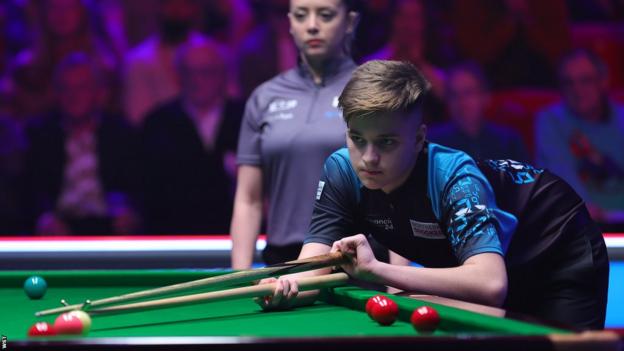 Fourteen-year-old Vladislav Gradinari became the youngest player to win a televised ranking event match by beating Ng On Yee in the first round of the Snooker Shoot Out.
The Moldovan teenager made a break of 21 in the one-frame contest as he beat the three-time women's world champion.
Gradinari moved to England two years ago and qualified after winning an English Under-14 event.
"It feels amazing, I played my best game," he told World Snooker's website.
"I had some shots and I potted them."
Gradinari, who lives in Leeds, plays his second round match in Leicester on Friday.
"Snooker is not really popular in Moldova, we only have three or four tables there. We are trying to improve the level there," he added.
"I started watching on TV because my mum and grandad watched snooker. I started playing snooker at the age of seven.
"I am doing everything possible now to become a professional player. I can't wait for the second round here."
Sign up to My Sport to follow snooker news on the BBC app.