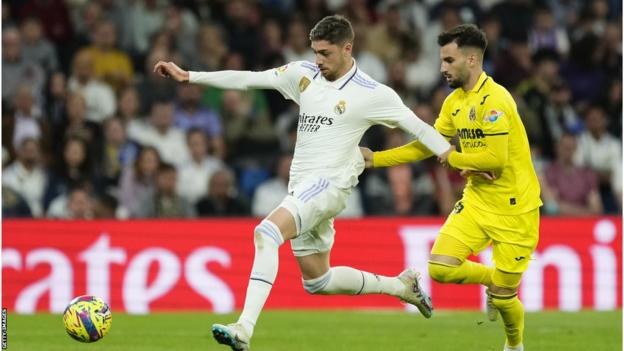 Villarreal's Alex Baena says he and his family received death threats after claims he "wished harm" on the family of Real Madrid's Federico Valverde.
Villarreal say the 21-year-old was attacked on his way to the team bus after the game.
It has been widely reported that Real Madrid midfielder Valverde was the alleged offender.
"Last Saturday I was assaulted by a colleague from this profession after the game against Real Madrid ended," Baena said on Monday, not mentioning Valverde.
"After it happened, some comments came to light, presumably made by his entourage, which said that I had wished harm on his family.
"Since then, and it couldn't be otherwise, no evidence has been published that proves the deeds attributed to me."
Valverde's partner Mina Bonino said in February the couple thought they had lost their baby, before the pregnancy was found to be healthy, and some reports in Spain have alleged that Baena referred to this during the game.
Winger Baena, who called the accusations "totally false", said his family had received insults and death threats.
"They took advantage of a misfortune to justify the attack, and there are lies that hurt more than punches," he added.
"The damage being done to my family is unrepairable and unjustifiable, there are threats, insults and even private messages wishing death on my family.
"Yesterday we reported the case to the police, we will let justice run its course."
In a statement on Sunday, Villarreal said: "Villarreal CF player Alex Baena was assaulted last night while on his way to the team bus after the match against Real Madrid CF at the Santiago Bernabeu stadium.
"Faced with this situation, the player has decided to file a complaint against the aggressor with the police.
"Once again, Villarreal CF rejects any act of violence and firmly believes in the player's version of events and will support him throughout this process."
Real Madrid and Valverde have yet to comment.
Samuel Chukwueze scored twice, including a stunning late winner, as Villarreal won to deliver a further blow to Real's fading title hopes.