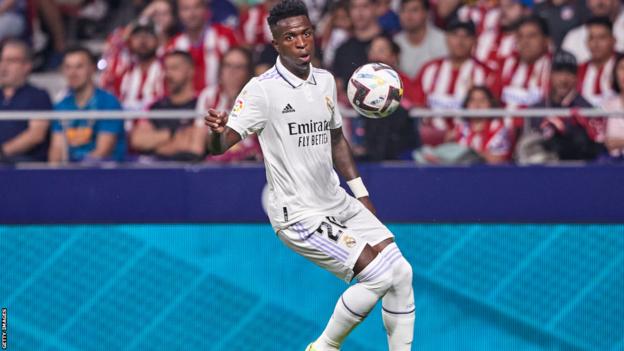 La Liga says it "strongly condemns acts of hatred and intimidation against Vinicius Jr" after an effigy of the Real Madrid winger was hung from a bridge near the club's training ground.
A banner reading "Madrid hates Real" was attached to the bridge's railings.
Atletico Madrid and Real meet in the Copa del Rey on Thursday and Atletico said the incident was "repugnant".
Brazil international Vinicius Jr, 22, said last month the Spanish league had to act on racists attending games.
Before the Madrid derby in September, a minority of Atletico fans sang racist songs aimed at the player as they entered their Wanda Metropolitano stadium before Real's 2-1 win, which the club condemned as "unacceptable".
However, Spanish prosecutors closed an investigation into the chants three months later, saying it was impossible to identify those responsible.
Earlier this month, the Spanish league said it had filed charges relating to the racist abuse of the Brazilian to the "relevant judicial, administrative and sporting bodies".
And La Liga on Thursday said it "will press for an investigation by relevant state security forces and bodies" into the effigy and banner, and will "seek convictions for those responsible and request the most severe sentences".
Atletico stressed that while the rivalry between the two clubs is "the greatest… so is respect".
They added: "No individual, whatever their intentions or colours, can tarnish the coexistence between different supporters. It is everyone's responsibility to avoid this.
"Such acts are absolutely repugnant and inadmissible and shame society. Our condemnation of any act that attacks the dignity of persons or institutions is categorical and unreserved.
"We do not know the perpetrator or perpetrators of this despicable act, but their anonymity does not avoid their responsibility.
"We hope that the authorities succeed in clarifying what happened and that justice helps to banish this type of behaviour."
The quarter-final of the Copa del Rey takes place at Real's Bernabeu at 20:00 GMT.