England's 11-run win over India could prove to be the match that wins them the World Cup.
It was a group-stage meeting that felt like a semi-final, such was the significance of what was at stake – to top the group and most likely avoid defending champions Australia in the next round.
Barring South Africa's shock defeat by Sri Lanka in the opening game, most of the competition has gone to plan, with very few shocks or tight finishes or evenly matched sides battling it out for glory.
So at St George's Park in Gqeberha, formerly Port Elizabeth, the two heavyweights of the group came together in a mouth-watering contest that England edged, aided by Nat Sciver-Brunt's brilliant half-century with the bat and in spite of Renuka Thakur's phenomenal 5-15.
India came into the game brimming with confidence from a headline-grabbing Women's Premier League auction in which all their players were signed, and having completed the tournament's highest run-chase so far in their opening win against Pakistan.
For England, it felt different. They also had two wins from two but they were comfortable, untested against West Indies and Ireland.
So while their performance against India was not perfect, they will be delighted to have overcome a top-class opposition, especially after recovering from 29-3 and withstanding the class of the world's most expensive batter, Smriti Mandhana.
'We are building nicely'
While it may not have technically been a knockout contest, captain Heather Knight was quick to acknowledge the result's importance in the bigger picture of England's campaign.
"It's a real confidence-booster," Knight said. "We haven't really played against a really big team recently and to perform like that against a really good India side makes us confident.
"It feels like we are building nicely."
Knight's contribution with the bat was also crucial, leading England's recovery from Thakur's potentially destructive opening burst in a half-century stand with Nat Sciver-Brunt.
England promised an attacking approach in all of their pre-tournament discussions, and they delivered it. Even when on the back foot, England's batters reverse-swept and ramped, they sought boundaries and bravely ran tight singles.
"We talk a lot about trying to fit our mindset to the conditions and my partnership with Nat did that," said Knight. "It was a really key partnership and it is really nice to have that depth in our batting line-up."
'England are capable of beating Australia'
The win was an all-round effort, as England were boosted late by Amy Jones' 40 from 27 balls to propel them past 150, before Sarah Glenn and Sophie Ecclestone, who took a combined 3-41 from eight overs, tied down India's batters with their spin, which has been vital in the team's success so far.
"England have not played their best cricket yet in this competition, they've not put the bat, ball and field all together and played the perfect game of cricket," said former England spinner Alex Hartley on BBC Test Match Special.
"But it's not about that, it's about peaking at the right time, it's about winning crucial moments. They're winning key moments that in the past they've lost, that in the past they would have thrown away.
"They're showing positive signs and I genuinely feel they are capable of beating Australia."
Is Katherine Sciver-Brunt's form a problem?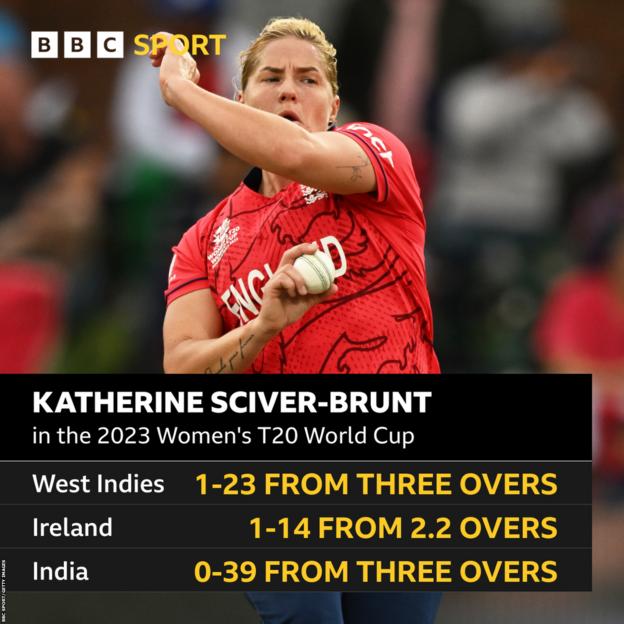 England were eventually rewarded for their aggressive approach with the bat, though they were at times faced with a similar approach from India's batters, and will need to be prepared for others – mainly Australia – to do the same.
Mandhana played beautifully, combining her trademark elegance with explosive power, smashing three fours from Katherine Sciver-Brunt's wayward second over and confidently taking on off-spinner Charlie Dean down the ground.
The opener was crucially dismissed by Glenn in the 16th over when 47 runs were needed, but England were then faced with 19-year-old Richa Ghosh's brutal hitting, whose unbeaten 47 got India closer than they probably should have.
Katherine Sciver-Brunt finished with 0-39 from three overs and leaked runs at the start before struggling for rhythm in the final over, when she was defending 31 – what should have been a formidable task for India.
Instead, she bowled a waist-high no-ball that went for four, followed by another four and a six, to give India a glimmer of hope before successfully closing out the win.
England have other seam options in Freya Davies and Kate Cross, but Hartley says the decision is not that simple.
"It is really hard to ask the question because she's been so good for England for a number of years but in the two most recent World Cups she hasn't performed as well as she should have liked, but away from World Cups she has bowled really nicely.
"It is really hard to drop someone like her because she has such an amazing record. England could rest her for Pakistan, knowing you have the semi-final, and play someone else, but I would keep it the same and back her.
"She has already said this is her last World Cup – there is no place for sentimentality in sport, but do England have the minerals? They might not think that is the right way to go either."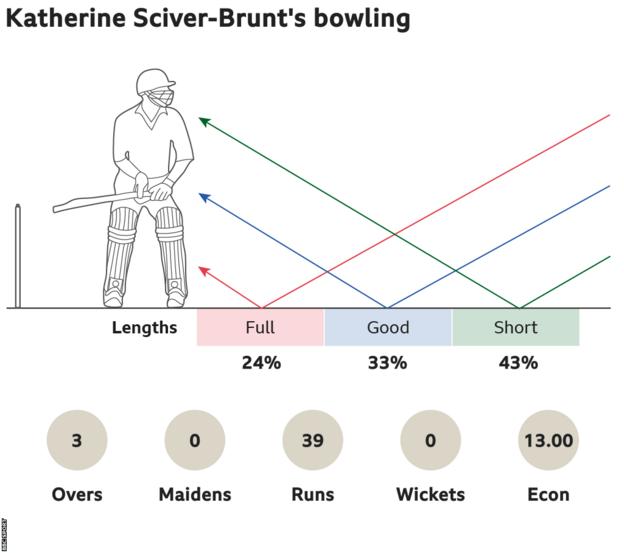 Ecclestone, who took a miserly 1-14, also reinforced her support for the veteran fast bowler.
"Bowling the last over was just good to give her confidence as one of our go-to death bowlers," said the world's number one-ranked bowler.
"If we get towards the semi-finals and finals it's great for her to practise her death plans and it didn't work out the way she wanted to today, but she'll just save it for the semi-finals and finals hopefully."
With England next facing Pakistan, who are a much-improved outfit but unlikely to challenge Knight's side, they are in prime position to go in to the semi-finals against weaker opposition, and unbeaten in the group stages.
They are not there yet – but the route to the final is set up favourably.
Whenever it is time to face Australia, England will be ready.