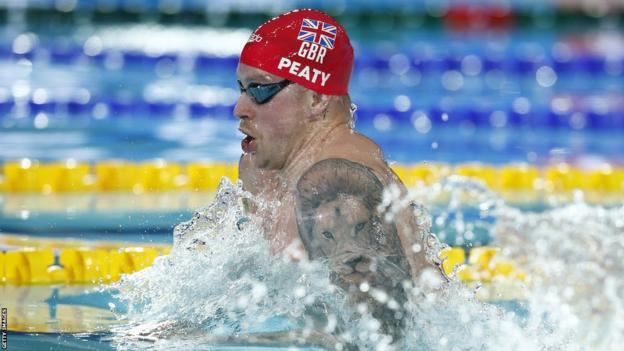 Three-time Olympic champion Adam Peaty has not been included in the Great Britain squad for this summer's World Aquatics Championships.
Peaty withdrew from the British Championships earlier this month, citing mental health reasons.
Six Olympic champions – Freya Anderson, Tom Dean, Anna Hopkin, James Guy, Matt Richards and Duncan Scott – are in the 29-strong squad.
The championships take place in Fukuoka, Japan, from 14-30 July.
In a statement on social media last month, Peaty said he was "tired" and "not enjoying the sport as I have done for the last decade".
However, the 28-year-old added he still intended to compete at the 2024 Olympic Games in Paris.
World champions Ben Proud and James Wilby are included in the British squad for the competition in Japan.
Proud, also a European and Commonwealth gold medallist, won the men's 50m freestyle title at the British Championships at Ponds Forge in Sheffield earlier this month.
Freya Colbert, Welshman Dan Jervis and Laura Stephens all made qualification times in their respective events in Sheffield to earn a place in the squad. Scottish teenager Katie Shanahan, winner of the 200m backstroke and 200m individual medley titles, will be among 10 World Championship debutants, along with backstroke specialist Oliver Morgan.
"We were really pleased with the standard of our athletes' performances at the British Championships, with established names and new faces delivering big swims and helping play their part in some outstanding races," said British Swimming performance director Chris Spice.
"As with every year, our swimmers and coaches will now put those performances behind them and focus on what they can do between now and the summer to ensure they can deliver a season's best when it matters most."
Great Britain squad
Freya Colbert, Daniel Jervis, Matt Richards, Katie Shanahan, Laura Stephens, Cameron Brooker, Greg Butler, Lauren Cox, Kara Hanlon, Medi Harris, Lucy Hope, Joe Litchfield, Keanna MacInnes, Jack McMillan, Oliver Morgan, Luke Turley, Jacob Whittle, James Wilby, Brodie Williams, Freya Anderson, Lewis Burras, Tom Dean, James Guy, Anna Hopkin, Emily Large, Jacob Peters, Ben Proud, Duncan Scott, Abbie Wood.