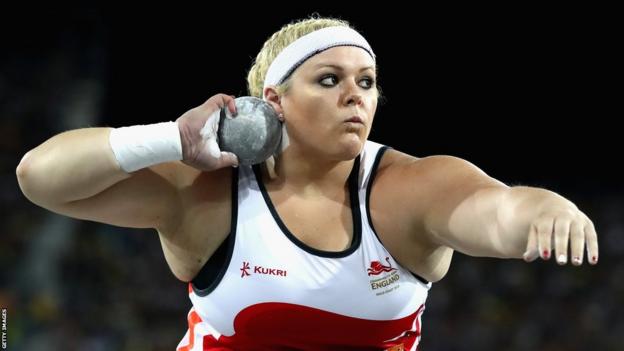 British shot putter Amelia Strickler says plans by World Athletics to allow transgender women to continue to compete in female international track and field events "would leave women at a serious disadvantage".
World Athletics has said its "preferred option" was to tighten the sport's eligibility rules, but still use testosterone limits as the basis for inclusion.
A policy document suggesting the amendments has been sent to World Athletics' member federations as part of a consultation process before a vote in March.
It comes despite other sports banning transgender women from participating in elite female competition, if they have gone through any part of the process of male puberty, amid concerns they have an unfair advantage.
"The effects of the hormones and hormone replacements are not going to take away that male puberty advantage and it would leave us women at a serious disadvantage," Strickler, who finished sixth at the 2022 Commonwealth Games in Birmingham, told BBC Radio 5 Live.
Strickler, 29, who is yet to compete against a transgender athlete at elite level claimed: "It is happening at grassroots level in Parkruns and club-level athletics. It is a ripple effect, one person taking a woman's place and those results, it all matters to people…this will be in elite athletics sooner than we think."
In June 2022, World Athletics president Lord Coe welcomed the move by Fina – swimming's world governing body – to stop trans athletes from competing in women's elite races if they had gone through any part of the process of male puberty, insisting "fairness is non-negotiable".
Fina's decision followed a report by a taskforce of leading figures from the world of medicine, law and sport which said that going through male puberty meant trans women retained a "relative performance advantage over biological females", even after medication to reduce testosterone.
Fina also aimed to establish an 'open' category at competitions for swimmers whose gender identity is different than their birth sex.
While such moves have been praised for protecting female sport, some critics have said these rules are discriminatory.
Olympic diving champion Tom Daley said he was "furious" at Fina's approach, saying: "Anyone that's told that they can't compete or can't do something they love just because of who they are, it's not on."
At the time, Coe hinted his sport could follow suit as he added: "We have always believed that biology trumps gender and we will continue to review our regulations in line with this."
Asked if she would accept the outcome of the vote to be held in March, Strickler said: "Do I have a choice? The document was shocking to me after Seb Coe showed a lot of support for Fina, who decided to do an open and female category in swimming.
"I was quite shocked they were going to allow it to continue, even if they are making the rules more strict.
"It is just something that me, my peers and my colleagues – we all work hard day in, day out – we don't want to see this happen.
"I hope people will just see an open category is still fair and inclusive but we do have to protect female sport and we have to make sure women are not at such a disadvantage."
'Big athletes not yet willing to publicly say they support me'
Strickler, who won silver at the 2017 British Athletics Championships, added she was "hoping for more support" moving forward.
"There have been big names that have spoken to me, they just are not willing to publicly say it yet," said the Ohio-born athlete.
"The more support we get on this, hopefully the rules will be put in space to protect us and our sport.
"Athletics is not football, we don't make big money. The contracts and funding matter. A lot of people don't want to jeopardise that and don't want to be called transphobic.
"That is not about not including people – that is certainly not what I'm saying. I just think we need to protect the female sex and female sport."
In the Tokyo Olympics two years ago, transgender athlete Laurel Hubbard made Games history by competing in the women's +87kg weightlifting.
New Zealand's Hubbard became the first openly transgender athlete to compete at a Games in a different gender category to the one in which they were born.
Last year, British Triathlon became the first British sporting body to establish a new 'open' category in which transgender athletes can compete. The Rugby Football League and Rugby Football Union also banned transgender women from competing in female-only forms of their games.
It followed World Rugby becoming the first international sports federation to say transgender women cannot compete at the elite and international level of the women's game in 2020.