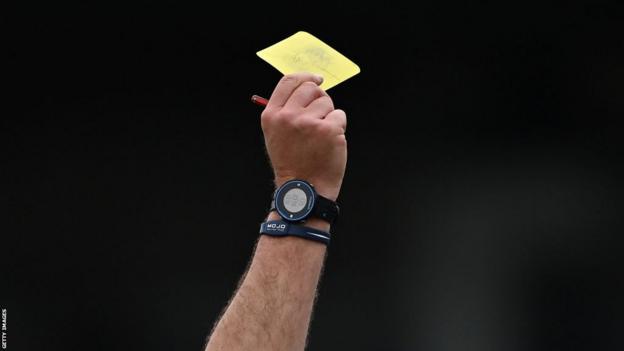 Card reviews are being considered by World Rugby for the World Cup in France this autumn but their use will be dependent on the outcome of trials.
The change, referred to as an orange card, is intended to stop players being wrongly shown a red card as England's Freddie Steward was in the Six Nations.
A similar review process is being trialled in Super Rugby this season.
World Rugby is likely to trial it elsewhere before the World Cup, such as at the U20 World Championship.
The card-review process would only be used in-game when a foul play call is not clear from initial replays.
In that situation, instead of showing a straight red, a referee would have the option to show a yellow card that gives a second television match official (TMO) a chance to have a detailed look at the incident with all angles available.
With the player in the sin-bin for 10 minutes the TMO would decide if the foul play warrants being upgraded to a red card, in which case the player would not return to the pitch.
If the TMO believes it is a yellow card only, then the player would return to the match after the usual 10 minutes in the sin-bin.
The change would not take away referees' ability to red card a player. A clear on-field red would remain as such.
A World Rugby spokesman said: "World Rugby is always open to exploring any innovation that has the ability to assist match officials, reduce stoppage time and enhance the flow of the game in line with the key outcomes of the recent Shape of the Game conferences.
"We continue to monitor the TMO bunker operational in Super Rugby and evaluate its potential to be extended to international rugby subject to a full review of its use and feedback of all elite rugby stakeholders."
A TMO bunker would be a place away from the stadium where two or three television match officials would be, similar to VAR officials in football.
England's women's head coach Simon Middleton has backed the law change, saying: "I'd welcome it. Anything that lends itself to getting the right decision.
"We've seen it first-hand the impact of losing a player. I think it's a really positive and progressive step."