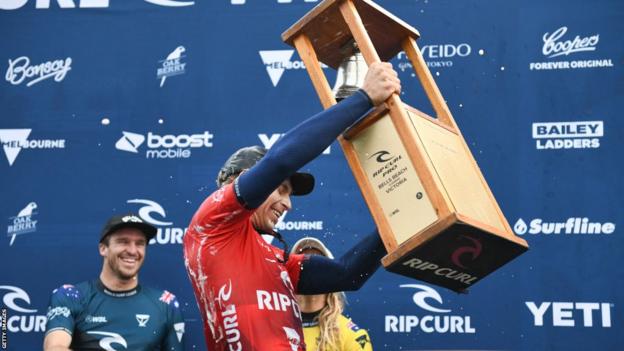 Australian surfer Ethan Ewing won the Rip Curl Pro men's title at Bells Beach 40 years after his late mother Helen won the women's trophy.
The World Surf League competition in Victoria, Australia, is the longest-running event in competitive surfing.
Ewing was six when his mother Helen died in 2005 of breast cancer, aged 39.
"I've been thinking about her since I have been on the tour and it's been a huge goal of mine. I want to do her proud" said Ewing, 24.
In 1983, Helen Lambert won the women's title to confirm her status as a major talent in the sport at the age of just 18.
Decades later, on matching his mother's achievement, Ewing added: "I've had her trophy next to my bed pretty much my whole life and looked at that and dreamt of it. Seeing her name on the stairs [on the walk towards Bells Beach] and now having my name there is so, so special.
"It's been my biggest goal in my career to win this. All my heroes have won this – Joel [Parkinson], Mick [Fanning], Kelly [Slater], the girls – Steph [Gilmore], Carissa [Moore], and then my mum back in '83. It is an honour to compete here. To put my name up there with her – it's really special."
Ewing, 24, beat Brazilian three-time WSL champion Gabriel Medina in the last 16 before dominating in the all-Australian final against Ryan Callinan for his second WSL title.
He is the first Australian male to win the title since Matt Wilkinson in 2016.
Surfing made its debut at the 2020 Tokyo Olympics and will be held in Tahiti, French Polynesia at the Paris 2024 Games.